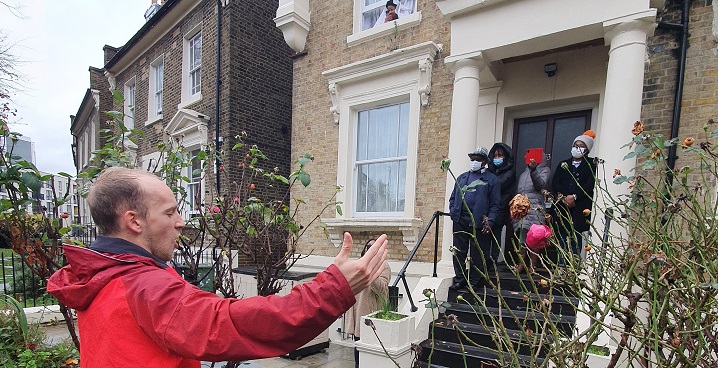 Family Volunteering Club partnered with AgeUK Lambeth's MYsocial and Coin Street Nursery to build connections between local pre-school children and isolated members of the community.
Art for 'offliners'
MYsocial identified 'offliners' –  individuals without regular access to computers – as participants of this project. Children from Coin Street Nursery created artwork exploring themes of community and friendship, inspired by The World Made a Rainbow by Michelle Robinson. They made covid-safe visits (outside homes) to deliver the pictures accompanied by live professional music and poetry from baritone Peter Edge, poet Lola Oh and guitarist/singer Elliott Morris.
"Brightened my day"
One 'offliner' said: "I'm absolutely over the moon and crying happy tears, I loved the singing and the beautiful picture from the children, my neighbours came out and enjoyed it too. I will never forget it, thank you." Another's carer added: "Wonderful, wonderful, wonderful…. This is the most beautiful thing for someone like my mum who can't go out… You've brightened my mum's day – and mine!"
Think about community
Maddy Mills, Founder of Family Volunteering Club said: "We were delighted to encourage local children to think about the importance of community, and bring joy to local residents struggling to connect to their communities in the same way as a result of the pandemic."
A joy to share
Jane Christofi of Coin Street Nursery said: "This is our first intergenerational project and we were really proud to be part of bringing our community closer together. The look on the faces will be a joy to share with the children and families.
Word from the Cabinet
Cllr Donatus Anyanwu, Lambeth Council Cabinet Member for the Voluntary Sector and Leisure, said: "Family Volunteering Club helps create projects that inspire children to be positive about volunteering and gives parents a way to share with them in building the community. We're thrilled to see Lambeth's charity sector respond so wholeheartedly to this innovation." The project was funded by Comic Relief's Community Fund, to expand Family Volunteering Club's programme of working with Lambeth charities.
More Information
Family Volunteering Club: maddy@familyvolunteeringclub.co.uk
MYsocial brings people together to try new things, develop friendships and feel part of a community through online and offline events.
Coin Street Nursery 60-place day nursery provides high quality, affordable care and education for children from 3 months – 5 years.