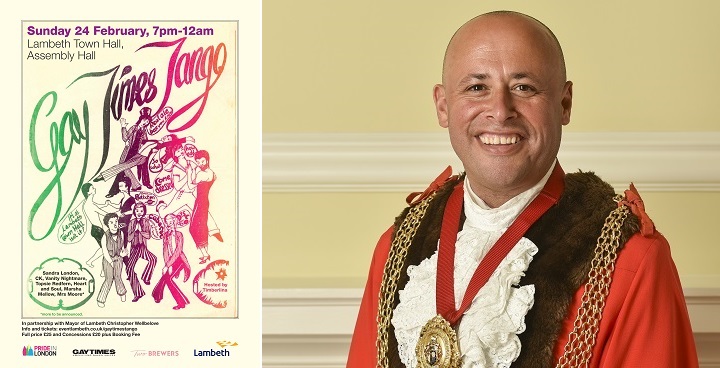 In 1975 South London Gay Liberation Front organised the original Gay Times Tango in support of the Gay Times Festival. Fast forward to its 44th anniversary – February 2019 – and the Mayor of Lambeth, Christopher Wellbelove, is hosting a celebratory fundraiser event, compered by Timberlina.
Word from the Mayor
 "When the Gay Times Tango was held in 1975 it was a really ground breaking event. Only a few years earlier it was still illegal to be Gay and despite decriminalisation there was still widespread persecution of LGBTQ+ people and many equalities were years away. By re-holding a Gay Times Tango I want us to celebrate all those who have championed LGBTQ+"
On the night
Performances on the night will include CK, Heart and Soul, Marsha Mellow, Mrs Moore, Sandra London, Topsie Redfern and Vanity Nightmare, with more acts to be announced. The event is in partnership with Gay Times Magazine, The Two Brewers and Pride in London.  A quarter of the proceeds will be donated to the Brixton-based charity GMFA (Gay Men Fighting Aids) and the rest to the Mayor's Charity Fund supporting Mosaic Clubhouse.
Event details
Sunday 24 February 2019, 7pm to midnight. Over 18s only
Assembly Hall, Lambeth Town Hall | Acre Lane | SW2 1RW
Tickets from Event Lambeth £25 full price /£20 concessions/£12.50 'Early Bird' (plus booking fee)
For more information
1975's Gay Times Festival included a season of new plays written by lesbians and gay men, and a meeting between spokespeople from the LGBTQ+ community and TV/ film makers and Fleet Street journalists on challenging media stereotypes. For example, in 1975, the mainstream press was still regularly linking calls for an equal age of consent with 'legalising child sex'. The prosecution of Gay News as an obscene publications was to follow in 1977.
The event's supporters