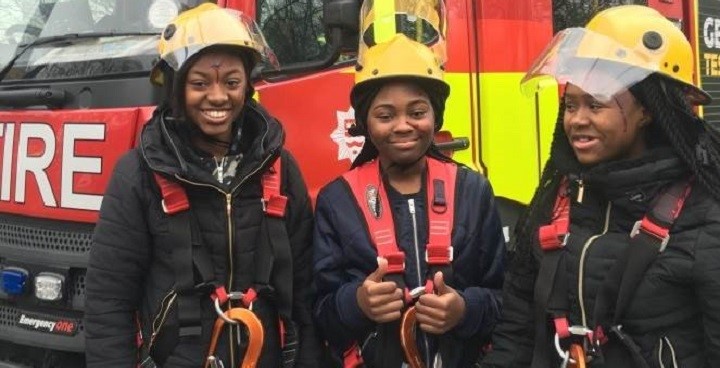 An exciting Youth Engagement Programme with London Fire Brigade starts at West Norwood Fire Station this Autumn. Fire Cadets is a free, nationally recognised programme offering young people (14 to 17) the opportunity to gain a credible BTEC Level 2 Award in Fire and Rescue Services in the Community and develop their personal skills. They also take on social action projects with the local community. The programme is delivered by Volunteers and Operational London Fire Brigade staff.
The Fire Cadet programme
The programme provides opportunities to:
Enhance key citizenship skills and build confidence
Develop transferable, practical skills for future training or employment
Gain a nationally recognised qualification
Play supportive roles in their local community and develop positive peer relationships
Attend a local fire station one evening a week, alongside LFB and community volunteers
Work in partnership with other uniformed cadet organisations
Represent London Fire Brigade at prestigious events
Increase knowledge of community fire safety and empower young people to educate family and friends.
Help change a young person's life
Just 16 places are available on the programme starting in September, so if you know people aged 14–17 who would benefit from this opportunity, contact us as soon as possible to make a referral.
Grounding for a career
Many Fire Cadets go on to join the fire service, like firefighter Nick Cambridge, from Romford. Mr Cambridge joined the cadets at sixteen and now, aged 20, is fully qualified. Nick said that: "Being a fire cadet and training inside a working fire station gave me an insight into what it would be like to work as a firefighter and equipped me with an understanding of some of the practical skills involved".
Adult volunteers needed
Our Fire Cadets programme is only possible because of adult volunteers. Firefighters, Brigade staff and adults from the local community give up their personal time, and wide-ranging skills and experiences, to help support each cadet to achieve the best they can. We are looking for adult volunteers who can commit to every Tuesday from 6 – 9pm at West Norwood Fire Station. Adult volunteers can gain transferable skills and complete a number of accredited courses. Our volunteers don't need experience of working with young people, just a passion for helping change their life for the better.
---
For more information
For more about how to join this programme as a cadet or as an adult volunteer please contact Youth Engagement Coordinator Dee.Valanc@london-fire.gov.uk
Follow the Fire Cadets on Twitter or Facebook