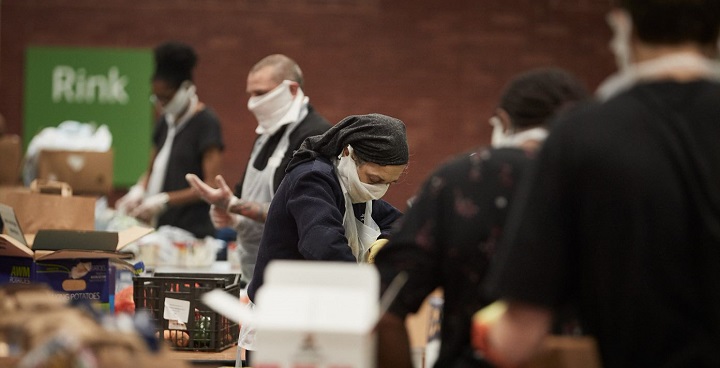 The Lambeth Food Poverty and Insecurity Action for 2021 – 2024 aims to build on the work already undertaken to tackle the issue, as well as responding to the new and emerging challenges residents of the borough face as a result of Covid-19 when it comes to meeting their needs in this critical area.
Underscoring the commitment of the council and its partners to tackle food poverty, the action plan outlines how as a first step new food hubs will be opening to distribute surplus food in key locations across Lambeth to help ensure that no one in our community will go hungry.
The final Action Plan, incorporating the results of consultation online and input, is available to read online or download from the  council's website.
Word from the Cabinet
Cllr Jim Dickson, Lambeth's joint Cabinet Member for Health and Social Care, said: "This is a really important action plan that plots how we will continue our work as a community to support those in need. The ability to have healthy, fresh and nutritious food is so essential to the wellbeing of this borough.
"We were working hard to address this issue before the Covid-19 pandemic started. Since the crisis began in March last year we have seen it disproportionately impact those with the least and made this work more critical than ever.
"The brilliant campaigning by Marcus Rashford in the autumn highlighted just how severe the situation had become. We backed his campaign and aim to keep leading on this issue, so I ask that residents feedback on this plan as well as volunteering to help those in need at this very difficult and challenging time".
Working in partnership
The Lambeth Food Poverty and Insecurity Action for 2021 – 2024 builds on the work done by a large number of local voluntary and community organisations to tackle food poverty and insecurity in the borough. When the Covid-19 pandemic hit in March last year the council in partnership with the sector was able to swiftly set up arrangements to ensure vulnerable residents had access to nutritious food.
The Council has maintained regular contact with these organisations to ensure that there is a shared understanding of the challenges faced and that the council can provide as much support as possible. This has resulted in:
A new surplus food co-ordination and distribution service run by Healthy Living Platform from February 1 taking account of the needs of our diverse communities and commitment to providing nutritious food
Building close working with FareShare to ensure that wherever possible the surplus food received takes account of religious and cultural needs
Set up the £50,000 Fridge and Freezer Fund set up to support small VCS to provide a wider range surplus and other food
Established the My Community Helpline to sign post residents to a wide range of support including access to food as well as welfare advice, grants to assist with other urgent needs. Available via Gateway on 0333 360 3700 or email mycommunity@ageuklambeth.org
Emergency food arrangements put in place during festive bank holidays
Ensuring that vulnerable families have access to free school meal vouchers
Compiling a list of free resources and support that those in food distribution can benefit from, including free food hygiene and safeguarding training and funding opportunities