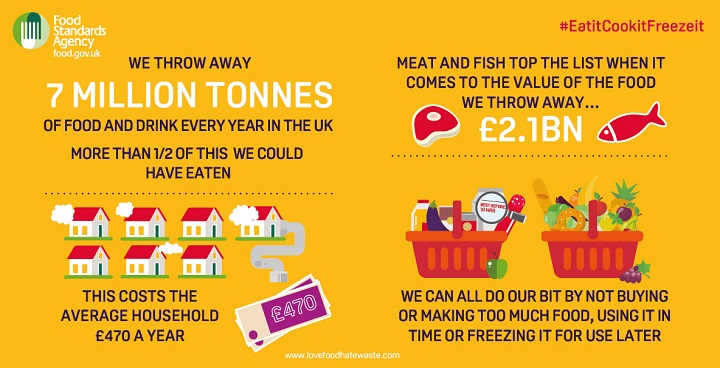 New research from the Food Standards Agency (FSA) has revealed that 68% of UK adults report that they have thrown food away in the past month.
Over two thirds (36%) of those who had thrown away food said they have discarded food as it was past its use by date. Other top reasons for throwing food away include buying too much and not eating it, which was reported by 30% of people; and not having the chance to eat food before it went off, which almost a quarter (23%) gave as an excuse for putting food in the bin.
This contributes to the seven million tonnes of food that is wasted in the UK each year which, according to the Love Food Hate Waste campaign, costs each household around £470 annually.
We are backing the FSA's campaign to encourage residents in Lambeth and across the UK to help tackle the problem of food waste by planning ahead and, if necessary, to freeze  food within its use by date if there is a chance you may end up throwing it away once the use-by date expires.
Kevin Hargin, head of Foodborne Disease Control at the FSA said:
 "Every year, we throw away seven million tonnes of food and drink from our homes. Much of this waste is unnecessary, and a better understanding of how to freeze food safely could go a significant way towards tackling the problem.

"Our research shows that many of the fears the public has about freezing food are unfounded and we need to ensure they know the facts. 31% of the people we spoke to said that more information about how to safely freeze food would help them to reduce their food waste – that's why freezing is the focus of this year's Food Safety Week.
For more information on freezing food safely, visit www.food.gov.uk/useby or follow @foodgov #EatitCookitFreezeit on Twitter for tips and advice throughout Food Safety Week.