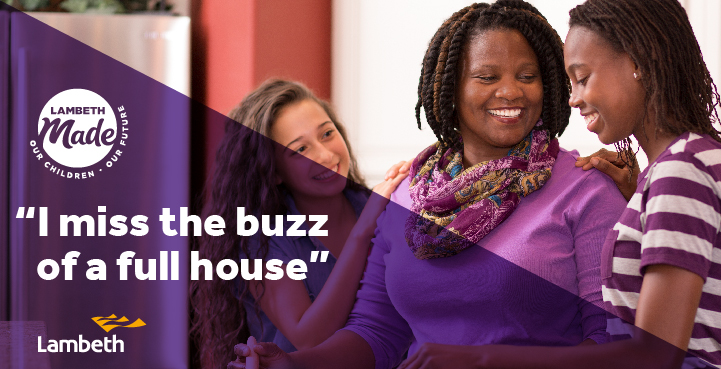 Joan, a foster carer for Lambeth since 1993, has recently been awarded an MBE for her commitment to the profession. To date, she's fostered over 50 children in Lambeth and shares some of her experience of fostering after her own children grew up.
Why did you decide to become a foster carer?
"I guess it all started with my grandmother. She was a big part of the community and always welcomed children into her home in Jamaica. I think this is why I always have to cook a big pot and give to others.
"At the time I was at college studying health and social care. A friend asked whether I'd thought about becoming a foster carer. I thought about it and she gave me Lambeth's number so I made the call!"
What did your children think about you becoming a foster carer?
My daughter was excited about the idea of me fostering. My children had always brought school friends round to stay over who I welcomed in – cooking, talking to them about their education, asking about their family. Having foster children in our own home felt no different to this really.
What do you think makes a good foster carer?
"My first thoughts are tolerance, lots of patience and learning to meet them halfway!"
"You don't just decide to do this job if you don't care. You need to really care about children and their feelings.
"One-to-one time with the children is also so important. Less talking and more listening. I make sure I give each child at least 10 private minutes every day. Ask them how their day was, check they're okay. So they think 'hang on a minute, here's someone asking about me, listening to me. They must care'.
What's your advice to anyone thinking about becoming a foster carer?
You must love yourself first before you can love others. Love the negatives and positives sides of yourself. Know yourself. The children who come into your care won't usually have this so it's important that you do.
When they come to you they have everything bottled up, they don't want to talk to anyone. Help them express themselves and communicate, tell us what they need – if they move to another placement, show them how to ask for what they need to make it work for them.
It's all about teaching them to love every part of themselves and to have a voice.
What's it like working with Lambeth children?
Nowadays I only work with young offenders – they keep you on your feet every day! This takes up a lot of time as it can mean attending court, visiting schools if they drop out etc. But I enjoy it – it's the only work I want to do now.
Over time Lambeth has empowered me to work with young offenders. I just knew after some really good training that I was equipped to help these children.
I understand the Youth Offending System and enjoy helping to get them out of the system and see their confidence grow.
Tell us about the support you get from Lambeth Fostering
When you work for Lambeth you're not alone – the training is excellent and there are opportunities throughout the year. I go to as much training as I can because it helps my work become easier.
 There are monthly support group meetings which I go to as often as I can. These are groups Lambeth arrange for foster carers and social workers to get together and talk about feelings and any extra support that might be needed. It's a good chance to share your own tips and experience with other carers.
There's also mentoring which is really good. If a foster carer is having problems it gives them someone to call if they need advice and ask – how would you act in this situation?
---
Find out more and apply
Lambeth's fostering service is always in urgent need of foster care placements for children with disabilities, sibling groups and teenagers. Placements types are all different but can range from short term to emergency and long term.
To find out more about the excellent training, support and fees on offer, visit www.lambeth.gov.uk/foster. Here you can also watch videos to hear about what more of Lambeth's current carers say about their experience of fostering. You can also find out about the different placement types and the process of becoming a carer.
If you'd like to apply to become a carer we'd love to hear from you. Please call 020 7926 8710 or email fosteringduty@lambeth.gov.uk