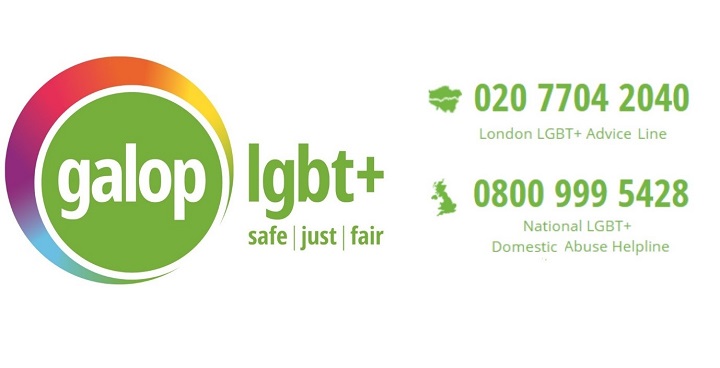 Galop started in 1982 as a group of gay people who wanted to challenge discriminatory policing against the community. With time, this developed to encompass all LGBTQ+ people and is now focused around three core services: hate crime, domestic abuse and sexual violence, with trans and young people's advocacy too.
Leading role
As the UK's only LGBTQ+ anti-violence organisation, galop takes a leading role in developing good practice and in working (nationally and locally) to promote better awareness and provision. We don't know the exact scale of sexual violence LGBTQ+ people experience – information is taken from studies which aren't specifically focused on LGBT+ people or sexual violence. New information is urgently needed, so we're researching now to have definitive statistics in two years' time.
Support –

speaking up
From over 12 years of running direct services, we do know that LGBTQ+ people face considerable barriers in speaking up about sexual violence, and that LGBTQ+ based specialist support makes a huge difference. We've seen demand for services skyrocket in recent years, especially from young people, refugees, and those involved in chemsex.
Communities and agencies talk
MOPAC funded  a new partnership to strengthen "services that could respond empathetically to the survivor, and specialised in issues and needs relevant to this community". We want to empower LGBTQ+ survivors to access support. We want our communities to discuss the issues and speak up about sexual violence. We want more agencies to be aware of the experiences of LGBTQ+ survivors so that their needs can be met more effectively.
Partnership in Lambeth
Galop is delighted to be working closely with Lambeth's council, venues, agencies and residents. This borough has a key role to play in supporting LGBTQ+ people who might be struggling with the impact of violence. Lambeth can help share best practice and we can, together, prevent sexual violence and respond to it better.
To contact galop 
T: 0207 704 2040
E: referrals@galop.org.uk
W: http://www.galop.org.uk/
Open: 10am-4pm Monday – Friday
In an emergency always call 999
For more information