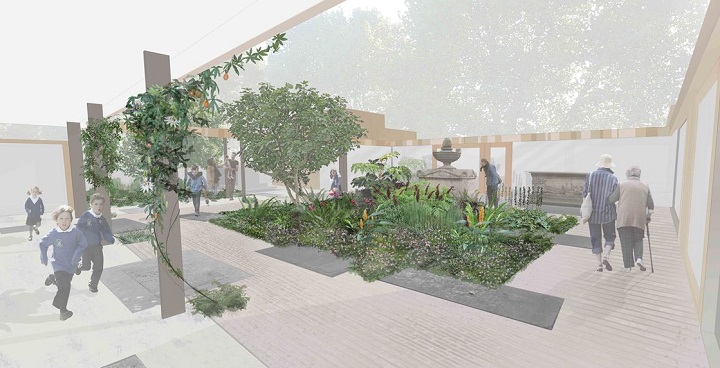 The Garden Museum is Britain's only museum dedicated to the art, history and design of gardens. It is a celebration of gardens and gardening, and a quiet place for reflection in the hustle and bustle of London.
The award winning design includes the new courtyard extension, built without foundations due to the 20,000 bodies buried on the site, some dating back to before the Norman Conquest.
'Nation of gardeners'
Christopher Woodward, Director of the Garden Museum, said: "Britain is often said to be "a nation of gardeners" and it now has a museum of its gardening heritage. This project, supported by the National Lottery has enabled us to put our collection on display for the first time.
"The ancient church of St Mary's has been restored, and inside our architects have built a playful, surprising wooden structure which contains seven new galleries. Outside we have built a bronze extension to frame a new garden by Dan Pearson. It is a modern Museum in a very ancient place. But we also hope it is a happy, quiet place to just come and be."
'Exceptional'
Stuart Hobley, Head of Heritage Lottery Fund London, said: "The Garden Museum has truly flowered into something exceptional! Set in the beautiful, restored and reinvigorated ancient church of St Mary's, the Museum is home to extraordinary collections which chronicle our love of gardening.
"From window box to greenhouse; so many of us enjoy watching our gardens grow and now, thanks to National Lottery players, we can all celebrate the history of our horticultural passion!"
What to expect
Visitors can explore the 14th Century tower which is opening to the public for the first time, as well as The Ark Gallery, a recreation of the Tradescants' 17th century cabinet of curiosities.
The building within a building design preserves the ancient body of the building while creating a new gallery for the permanent collection.  The innovative design means that visitors can take in the spectacle of the building whilst viewing the collections.  These collections reflect all aspects of gardening, from 1600 to the modern day, from Britain's oldest watering can to Harold Gilman's iconic 'Portrait of a Black Gardener'.
Opening 22nd May 2017
Open: Daily 10.30-5pm (Saturday 10.30-4pm)
Check the Garden Museum website for more details of admission prices and opening times.