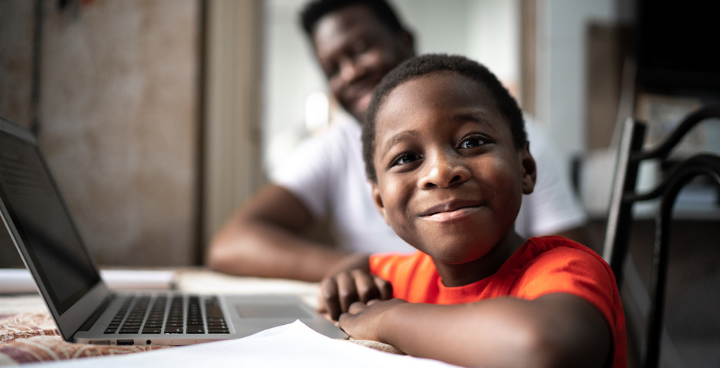 Lambeth Council has partnered with the charity Impact on Urban Health and other local organisations to raise over £100,000 combat digital poverty in the borough.
Impact on Urban Health will match the first £50,000 donated by Lambeth residents and businesses.
The aim is to ensure no child is left without the equipment they need to thrive.
A recent survey of Lambeth schools estimated more than 8,500 children in the borough lacked sufficient access to computers and internet access during the first Covid-19 lockdown.
Cllr Edward Davie, Lambeth's Cabinet Member for Children and Young People, said: "Despite Lambeth Council distributing about 5,000 laptops and other equipment to local families over the last year we know that there are still thousands who struggle without equipment, connections and skills needed to take advantage of online learning, budget savings and job opportunities.
"By donating to this fund supporters can help give more Lambeth families the chance to learn, connect and lift themselves out of poverty."
Funding
Impact on Urban Health, based in the London boroughs of Lambeth and Southwark, fund and support organisations, groups and individuals who are committed to achieving health equity in urban areas.
Andy Ratcliffe, Executive Director of Programmes at Impact on Urban Health said: "Not having access to digital equipment and reliable internet affects our mental and physical health, during lockdown more than ever."
The Lambeth Digital Inclusion Fund was established by Lambeth Council last autumn with a £200,000 grant. The fund works with voluntary organisations and schools to get more people online and connected.
Impact on young people
An end to lockdown will not change the digital divide – even as we look ahead to schools reopening, this unprecedented year of disruption means we face a massive challenge to help children catch up on the education and development they have missed out on.
Access to a computer and the internet is essential to this recovery, both for online homework and accessing other resources.
Bronia Grehan, Headteacher of Immanuel and St Andrew's Primary School, said: "Without technology, society would not have sustained social connection, economic activity, and education.
"The transformative power of technology means that having access to laptops or tablets allows schools to deliver an education that is more inclusive, personal, and effective, resulting in children having better outcomes.
The crowdfunding appeal is also supported by the Lambeth Digital Inclusion Network.
For more information visit the CrowdFunder Lambeth website.