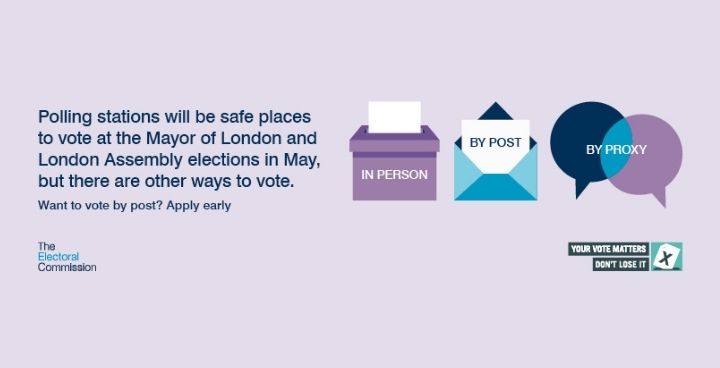 Covid Safety at Polling Stations
Voting will be different for the GLA elections on 6 May with measures in place to ensure everyone can vote safely.
What to expect at polling stations during coronavirus:
Social distancing inside and outside venues
Queues at polling stations – attend outside peak hours to reduce waiting times
Voters and staff must wear face coverings unless medically exempt
Voters are encouraged to bring their own pen or pencil
Maximum ventilation
Protective screens at issuing tables
Hand sanitiser at entrances and exits
Regular cleaning
Voters must not attend their polling station if required to self-isolate due to Covid (see below)
London Elects have overall responsibility for the Mayor of London and London Assembly elections across London. Their Getting Ready for COVID-Safe Elections web page includes a short video showing what voters can expect at polling stations.
If you prefer not to vote in person or are self-isolating due to Covid you can apply to vote by post or by proxy instead.  Apply early to ensure you can vote.
Important:
Government rules state you must self-isolate if you have coronavirus symptoms or have tested positive for coronavirus or have been contact with someone with symptoms or who has tested positive.
If you need to self-isolate you must not attend your polling station on polling day and can apply to vote by proxy up to 5pm on Tuesday 27 April. After this time you should contact us to find out about voting by Covid emergency proxy.
Find out information about when to self-isolate from the NHS
You must be registered to vote by midnight on Monday 19 April to be able to vote at the elections. If you're not already registered, visit www.gov.uk/register-to-vote to submit an application.