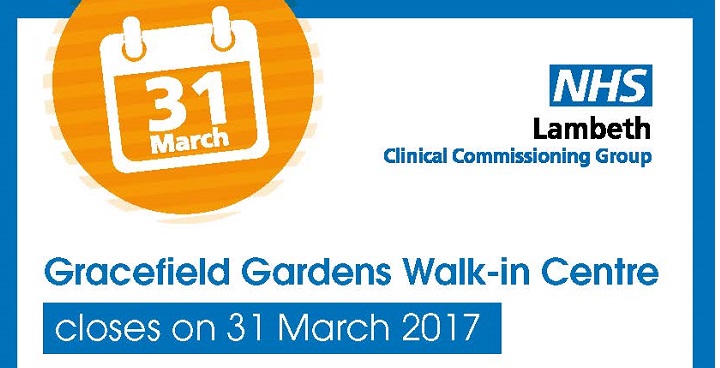 The review of GP services and extensive consultation with patients, GPs and other stakeholders about the Walk-in Centre concluded that Lambeth residents could see a GP more quickly if they are directed to use one of the four GP Access Hubs in the borough. The GP Access Hubs, which were launched in October 2015, now provide around 1,500 extra appointments every week, in addition to the bookings available at a patient's own practice. One of the GP Access Hubs is located in the Gracefield Gardens building.
If a patient cannot get an immediate appointment at their own practice, the receptionist can book them to see a GP or practice nurse at one of the GP Access Hubs.
Says Dr Adrian McLachlan, Chair of Lambeth CCG: "We want people to be able to see a GP when they need one and we know they want us to develop GP services that are more accessible, equitable, and fairly distributed and use NHS resources wisely.
"The creation of the GP Access Hubs has helped us to make a real impact on the availability of GP appointments in the borough and it makes sense for us to do more to explain to local people how they can see a doctor when their own GP is fully booked. We're doing as much as we can to inform people about the changes, including distributing leaflets to a number of community locations and having someone available at Gracefield Gardens over the next few weeks to advise people and answer queries."
The GP Access Hubs are not walk-in facilities. Appointments need to be booked via a patient's usual practice.
The CCG is encouraging Lambeth residents to register with a GP if they have not already done so, however Dr McLachlan adds: "We understand that some people may not be able to register permanently with a GP due to their circumstances, such as homelessness or migrant status, but we would stress that everyone is entitled to free access to GP services and people should speak to a GP practice or call 111 if they need help."
GP Access Hubs
If your own GP has no appointments they can book you to see a GP or nurse at one of these local practices:
Streatham High Practice, 2-8 Gracefield Gardens, Streatham, SW16 2ST
Herne Hill Group Practice, 74 Herne Hill (access via Kestrel Avenue), SE24 9QP
Vassall Medical Centre, 89 Vassall Road, SW9 6NA
South Lambeth Road Practice, 1 Selway House 272 South Lambeth Road, SW8 1UL