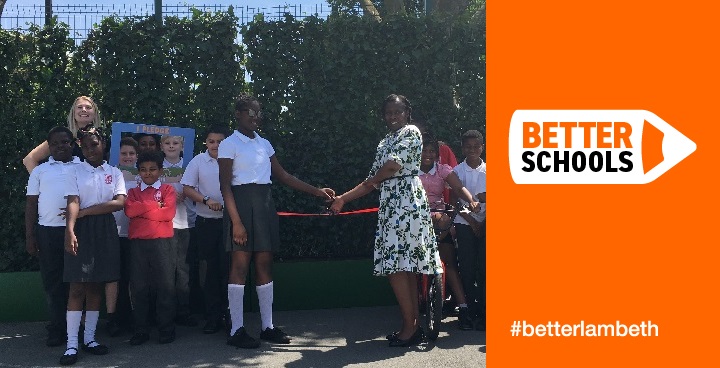 The screen, built by Lambeth council alongside the playground St Helen's Catholic Primary School, is designed to block harmful toxins from the heavily polluted Brixton Road.
Children and staff from St Helen's celebrated the completion of the green screen on Wednesday as part of Lambeth's Clean Air Week, raising awareness of air pollution in the borough and encouraging residents, businesses and politicians to take action.
Word from the Cabinet
Cllr Jennifer Brathwaite, Cabinet Member for Housing and Environment, said: "Air pollution is a hidden killer in London, and Brixton Road is one of the worst affected roads in the capital.
"St Helen's is right next to the road and it's vital that we do all we can to protect these school children from the toxins in the air.  This Green Screen is pioneering and it's designed to block the harmful pollutants from the road reaching the school playground.
"We all have a part to play in improving air quality, whether it's using the car less, turning off our engines, ordering online shopping to a central pickup location to reduce delivery journeys or walking and cycling more – that's why we're encouraging all Lambeth residents and businesses to sign a Better Air pledge, to commit to reducing air pollution."
Highest levels of air pollution
Lambeth has some of the highest levels of air pollution in the UK. Poor air quality disproportionately affects the elderly, children and individuals with existing heart and respiratory conditions, who suffer the most.
St Helen's primary school is situated close to Brixton Road, which exceeded the Government's hourly mean NO2 target 539 times in 2016 – that's 521 times more than the acceptable limit.  Research shows that 'Green Screens' (a barrier of planted ivy) lowers both particulate matter and nitrogen dioxide exposure.
The screen at St Helen's has been built at a cost of £15,733, paid for by a community fund set up by council contractor NSL.
Diffusion tube monitoring was carried out last year at the school and monitoring will be carried out for another year to see what effect the green screen has on air quality.
Air Quality Action Plan
Lambeth has recently adopted its 2017-2022 Air Quality Action Plan, detailing what the council is doing to improve air quality in the borough.
The council also worked with an additional 10 schools last year and another 10 schools this year in the borough to raise awareness regarding air quality, promote green walking routes and carry out diffusion tube monitoring.
Lambeth is also part of an anti-idling project with 14 other boroughs as part of the Mayor's Air Quality Fund. Last year the council worked with schools and other partners in the borough, including St Helen's, to promote anti-idling. There will be more of the same this year and the next event is 28 June near Clapham Common Tube station.