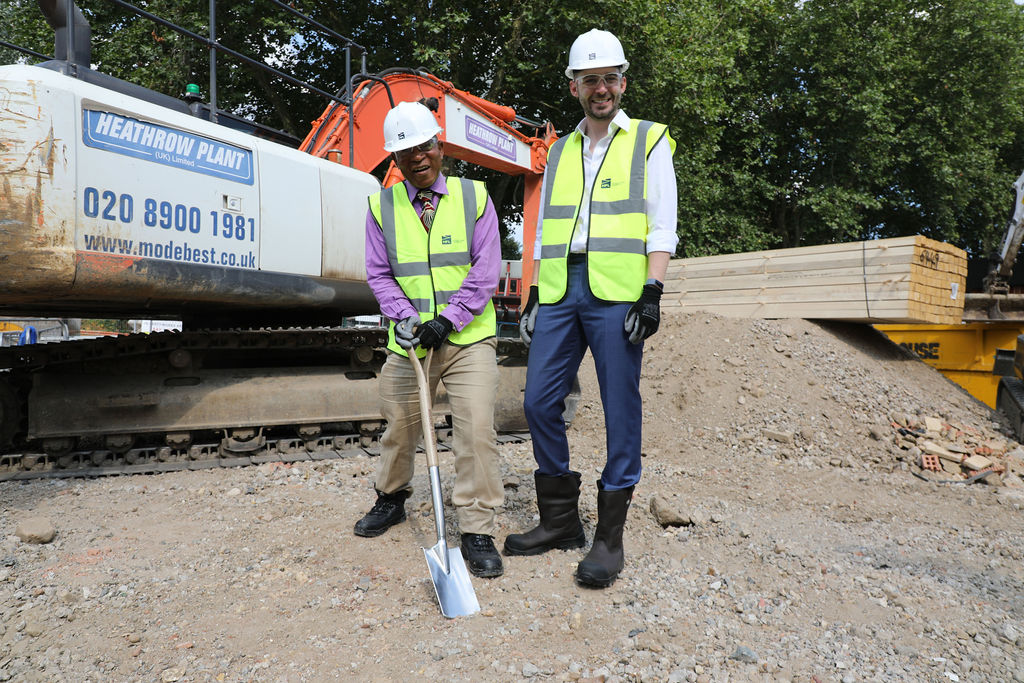 The partners behind the Somerleyton Road regeneration scheme, including Lambeth Council, Homes for Lambeth (HfL) and contractors Galliford Try, put the first spade in the ground at the huge site on the corner of Coldharbour Lane.
It is six years since the council set out its ambitious vision for a project which includes over 300 homes – 50% of them affordable – the relocation of the renowned Ovalhouse Theatre to Brixton, a new purpose-built home for the 'Block Workout' street gym, and new workspaces and community facilities.
Following extensive consultation with local residents, the scheme has gathered pace over recent months, after the council appointed Galliford Try to push ahead with the first phase of the regeneration scheme – involving the development of the New Ovalhouse Theatre and the refurbishment of the listed building Carlton Mansions.
In January, Lambeth's Cabinet gave the green light to plans to build hundreds of new homes at the site. Cabinet members also recommended that HfL – the council's wholly-council owned housing company – should build the new homes, in order to maximise the number of genuinely affordable properties.
Word from the Cabinet
Cllr Matthew Bennett, Cabinet Member for Planning, Investment and New Homes, is pictured officially breaking ground at the site, alongside local councillor Donatus Anyanwu. Cllr Bennett said: "This is a proud day for everyone involved in this fantastic project and it clearly demonstrates how close we are to delivering these benefits for the people of Brixton.
"We have spent years working closely with the community, making sure that everything we do is shaped by local residents, is unique to Brixton and provides the best chance of meeting the aspirations of people in the area.
"I am excited that, in the midst of a major housing crisis, Lambeth Council has the ambition and vision to provide genuinely affordable homes for people in the local area and Lambeth as a whole."
The Somerleyton Road blueprint also reaffirms the original objectives for involving the whole community in the development. It includes a community steering group which will oversee the project and create the Community Stewardship Body which will help to supervise the development in the long term.
The original objectives of the project, set out in a report to Cabinet in November 2013, included bringing the Ovalhouse Theatre to Brixton, maximising the amount of affordable housing for local people, and securing a long-term stewardship role for the community in the finished project.
The current planning consent for the scheme comprises 6 blocks, with provision for 304 homes – of which 50% are genuinely affordable – Extra Care homes, a nursery, a street gym, commercial space and retail space.
Read the full report on the plans for Somerleyton Road.