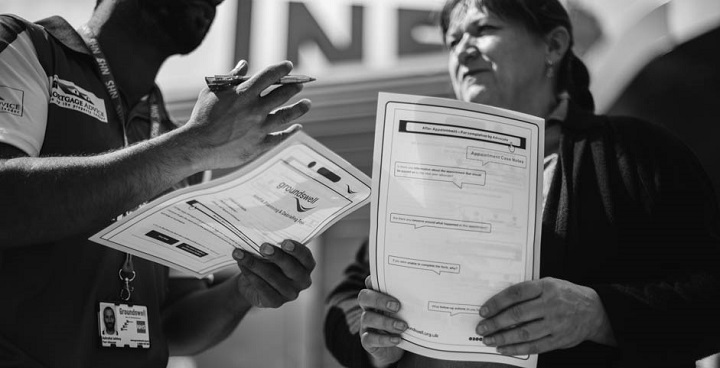 "What makes us different is that we work with people with lived experience of being homeless, so know best how to escape it. Groundswell started in 1996 as a campaigning charity made up of group of formerly homeless people, known for challenging policies and politicians, saying 'We know what needs to happen.' Then we became more about research, for example if a local authority wanted to design a service for homeless people, we'd talk to homeless people and advise the organisation how to make it work.
Healthcare advocacy
"We moved from Vauxhall to here in Brixton and changed our focus to healthcare advocacy. It was always coming up in our research as a theme. 80% of homeless people have mental health issues and 70% have physical. That means a huge majority with both. Self-care isn't a priority when people are in need of food and shelter, and we provide a month's training for volunteers who've been homeless themselves to become advocates.
Keeping appointments
"It can be daunting to go to hospital or a doctor's appointment. Many homeless people have mobility issues or can't afford the fare or are used to being rejected because they've had problems with drugs or alcohol. Some don't cope well with very structured queuing in waiting rooms. Advocates support people to go to follow-up appointments, collect their prescriptions. Some work to make sure patients aren't discharged from hospital right back on to the streets.
Right to treatment
"One of our greatest successes is our award-winning GP registration cards. Many people – including some GP's receptionists – mistakenly believe it's NHS policy that a homeless person cannot register with a GP. We've empowered thousands of people with cards (with the support of the NHS to use their logo, giving the cards credibility) saying 'I have a right to receive treatment from a GP surgery. I do not need a fixed address. I do not need ID. My immigration status does not matter.' We'll be giving out 20,000 more in the next couple of months.
Outreach
"We're Lambeth-based, with many Lambeth volunteers, but we're working to support Homeless Health Advocacy widely, from Cornwall to Dublin, Manchester and more."
More information
For more about their work, or to make a donation, see Groundswell's Information pages