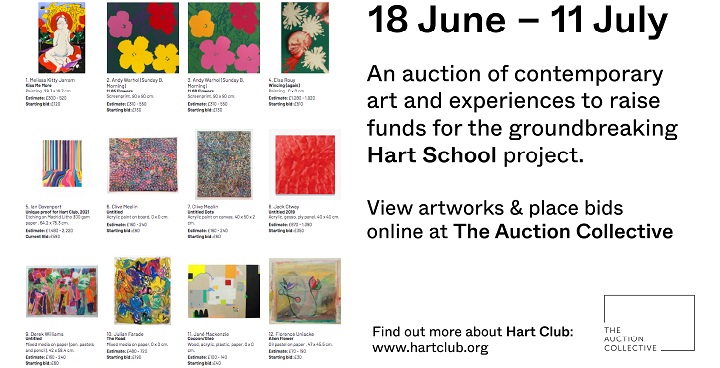 Artwork by some of London's most exciting artists is being auctioned to fund the amazing Hart School project – a groundbreaking school for neurodiverse artists. Waterloo's Hart Club – a community interest company founded in 2018 with the mission to champion neurodiversity within the Arts – are fundraising to run an inclusive, free, three-month intensive summer school for artists who are typically excluded by financial barriers and lack of specialised support.
 Starting an art school with a difference
This Hart School – where student artists can develop confidence through working in a non-hierarchical, collaborative learning environment – will be a not-for-profit pilot. Hart Club aims to secure funding to make this a regular occurrence and widen access to Arts education and opportunities. Documenting personal experiences and tangible outcomes of the summer school will illustrate how valuable the Hart School initiative is. Highly specialised, supported learning will include a superstar team of guest artists sharing insight into their practice.
Continued support
Beyond the three months, Hart Club will continue to support the artists for a full year to build a solid network for the future scholars. The idea has been brewing for almost a decade since Hart Club's founder Helen Ralli attended art school and experienced first-hand how lacking in diversity and hands-on support traditional Arts education can be.
Word from the Cabinet
Cllr Sonia Winifred, Lambeth Council Cabinet Member for Equalities and Culture, said "We're delighted to see this innovative boost for equalities, bringing the Arts sector and neurodivergent artists together to develop long-term support, is starting here in Lambeth."
More information
Hart Club offers neurodivergent artists a chance to gain creative and financial recognition for work that so often goes unseen. Their public platform aims to encourage conversation around diversity and inclusion. Find out more and donate online.
Art Auction: The auction is open online till the 11 July and open to the public on Saturdays, or during the week by appointment at 95 Westminster Bridge Rd, London SE1 7HR. The gallery building also includes a design studio, print studio, ceramics studio and art store. You can also support the fundraiser by bidding on exclusive experiences such as a ceramics workshop at Hart Club and a private tour of the Dubuffet exhibition with the Barbican's head curator Eleanor Nairne.
Exhibition: The gallery will open every Saturday throughout the summer school for local people to visit and check out the work in progress of Hart School, with a final exhibition at Hart Club in October.