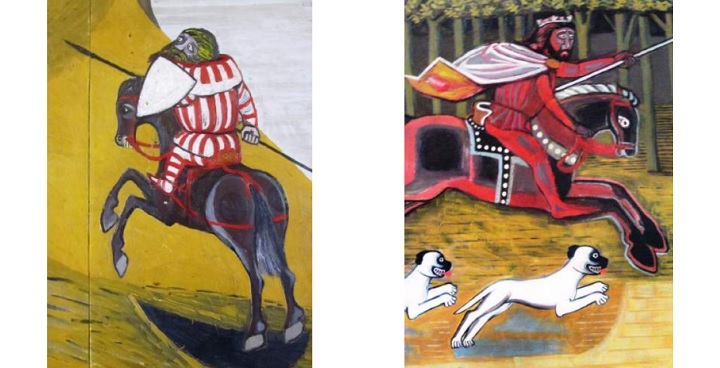 Friday 1 September – Friday 8 September
Week one of the month-long Lambeth Heritage Festival, Highlights of the first week include:
Lambeth Palace Library Tour
Friday 1 September – 11am
A rare 'behind the scenes' view of the Great Hall and an exhibition commemorating the 500th anniversary of the Reformation. Booking essential via email (Lambeth Palace Library Tour).
Lambeth Local History Fair -St Leonard's Church Streatham 
Saturday 2 September – 10.30am to 4.30pm
The heritage of Streatham's oldest building, featuring tours of the crypt and churchyard, a talk on the execution sites of South London, bookstalls and foodstalls.
Tour of West Norwood Cemetery 
Sunday 3 September – 2.30pm
Let a Friend of the Cemetery guide you through the monumental architecture to the final resting places of the originators of the cookery book, the machine gun – and more. Repeated Saturday 16 September.
Lambeth Palace Library
Monday 4 September – 12pm to 3pm
Visit our reading room where the Library collection dates from the ninth century to the 21st. Open days on Monday 4, 11 and 18
William Blake's Lambeth (walk)
Tuesday 5 September – 6.30pm
Meet by the Coade stone lion on Westminster Bridge for a guided tour of streets where the visionary poet and painter lived in the 1790s. Booking essential via Eventbrite (William Blake's Lambeth).
Murals at Morley College
Wednesday 6 September – 6pm
Illustrated talk and chance to see the Canterbury Tales murals designed by Edward Bawden. Booking essential via e-mail (Murals at Morley College)
Around the Walcot Estate
Thursday 7 September – 7pm
Guided walk with archivist Jon Newman to mark 350 years of the Walcot Charity, sponsors of the Heritage Festival. Free, but booking essential via email (Around the Walcot Estate).
---
Find out more
For full details of all the events taking place in September please see the Lambeth Heritage Festival information page.