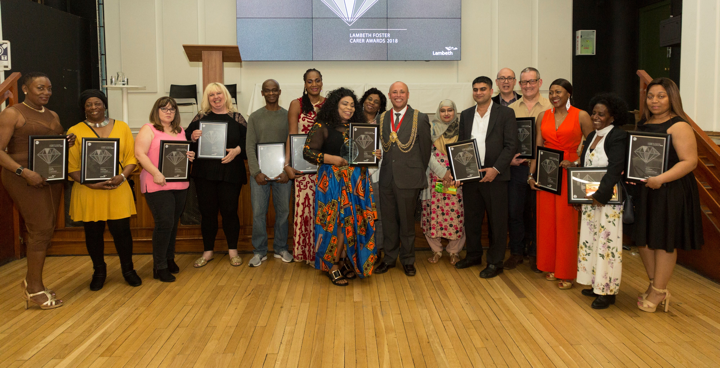 The Mayor of Lambeth, Cllr Christopher Wellbelove, presented the awards which this year were given to over 90 carers in eight categories. He was joined by Cllr Jennifer Brathwaite, Deputy Leader of Lambeth and Cabinet Member for Children and Young People, and Alex Kubeyinje, the Director for Children's Social Care.
The award categories demonstrated the depth and breadth of the work they do to support children in their time of need. We heard about the carers who've excelled in learning education, ensuring the children in their homes get to try as many activities as possible until they find something they like; to the carers who've taken extra steps to celebrate the diversity of children in their care by cooking familiar food, celebrating their heritage and learning new languages.
Special recognition was given to those carers who also contribute by getting involved in initiatives to support other foster carers. They include our mentors, who provide much needed one to one and telephone support especially to new carers, our London Foster Care Association members who engage regionally to develop the professional side of being a carer, and the Foster Carer Support Group who meet in Lambeth monthly to support one another, develop training and improve the way we work together as a team.
We also congratulated the two couples who've been caring for 20 years or more with Long Service awards. Both couples have taken in children with the highest needs over the years, including unaccompanied minors, sibling groups and children with disabilities. One couple, included Joan Wilson, who has recently been awarded an MBE for her contribution to Lambeth's children.
Cllr Jennifer Brathwaite said: "Our foster carers make a huge difference to the children in Lambeth who very much need the love and stability they have to offer. They look after those who have been separated from their families for a number of reasons that may be beyond our comprehension – ill health, abuse, neglect, being separated by war.
"Opening up your home to a child at such a vulnerable point in their lives is one of the greatest gifts you can give society. We cannot thank them enough for their contribution."
If you would like to find out more about fostering, you can visit www.lambeth.gov.uk/foster