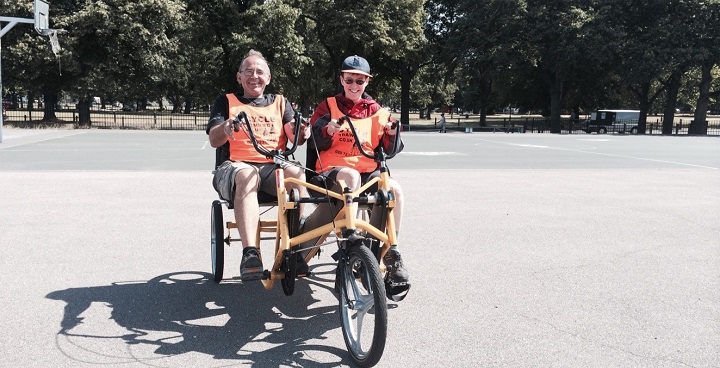 The Silver Cycling project aims to get more elderly people to have exercise and increase their activity levels, with the help of trained volunteers from the community.
Links in the chain
Our project is linked to the international Cycling Without Age project. It also has links to Lambeth's Positive Spin project in that where possible, we try and help people be active and get exercise on the bike.
Side by Side
The Silver Cycling Project is a partnership between Lambeth Council, Cycle Training UK, and SW9 Community Housing. We've attracted and trained several volunteers to come help us take elderly people, living in Helmi House, on outings using a "Side by Side bike" (see picture).
Launch party
On Wednesday 8 November 2017, 4pm till 6pm, we are holding our big launch party: A tea and cakes filled afternoon, where we bring Helmi House residents, Side by Side volunteers and Project Managers together – with the objective of warming the local community up to this exciting new venture.
The Silver Cycling Launch will be held in the common room of Helmi House – an assisted living scheme in SW9 that is home to both younger and older people.
---
For more information
Cycle Training UK  offers regular training in cycle safety for all ages in partnership with Lambeth Council and won the London Transport Award for excellence in Cycling and Walking this year. For more about their training and cycling experience courses see their information pages.
Positive Spin is a groundbreaking programme enabling people with dementia to learn to ride or return to cycling. Read about it from Dementia supporters.
Cycling Without Age started in 2012. Ole Kassow wanted to help the elderly get back on their bicycles, but needed a solution to their limited mobility. The answer was a trishaw and he started offering free bike rides to local nursing home residents. Cycling Without Age, has now spread to all corners of Denmark, and since 2015 to another 33 countries around the world. Find out more on their pages.