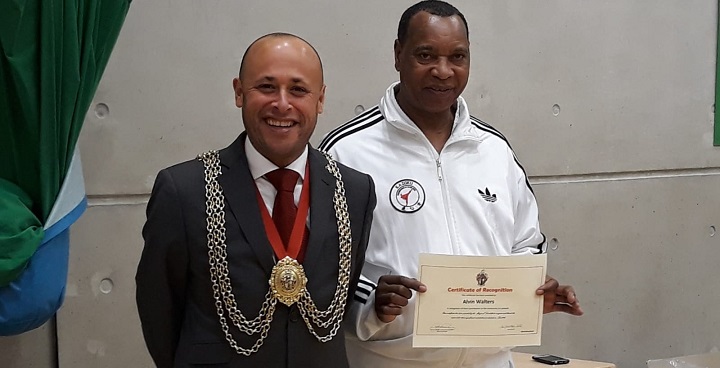 A karate club in Streatham received a surprise visitor at their awards ceremony this week, when the Mayor of Lambeth turned up to surprise one of their tutors and to thank him for his contribution to the community in Lambeth.
Teaching hundreds
The award was for Chief Instructor Alvin Walters who is currently a sixth Dan instructor. Alvin started teaching in 1989 and has taught hundreds of students, including those who have gone on to represent  England. He helped build up the club to the success it is today.
Discipline and respect
The club does some amazing work, and is extremely popular with users. Not only does the club help young people get physically fit it teaches them discipline, self-defence and respect for themselves and others.
Contribution to Lambeth
The Mayor interrupted the club's annual awards to present Alvin with his own special award, to a huge round of applause from the crowd. The Mayor said 'It was so great to meet Alvin and be able to publicly recognise his contribution to Lambeth. So many people like Alvin are unsung heroes and during my time as Mayor I want to make sure we celebrate everything they do. Like many community heroes he was very modest and wanted to make sure his colleagues were recognised too'
Word from the Cabinet
Cllr Ed Davie, who put forward Alvin for an award said 'I've known of the club for several years and think they do amazing work. Its so good to be able to recognise all they do whilst shining a light on Alvin's contribution.
For more information
Kazoku Renshinkai karate club train children weekly in Kennington, Streatham and West Norwood. See their information pages .
The Mayor of Lambeth is looking for other #BestofLambeth nominations, presenting certificates of recognition to residents who have significantly contributed to the Lambeth community. Any Lambeth Councillor can recommend a recipient, providing details of why they feel their nominated resident deserves the award.