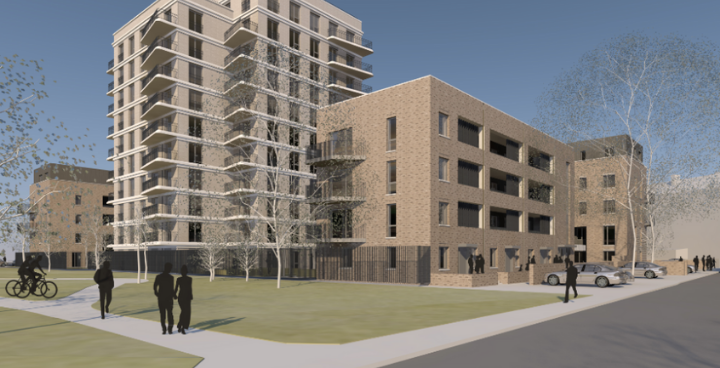 The proposals, put forward by the council's wholly-owned housing company, "Homes for Lambeth" (HfL), include 63 affordable homes – 45 at council-level rent.
The Planning Application Committee granted planning permission to the redevelopment of the site, near Lambeth Walk, at a meeting on Tuesday evening.
HfL has already completed 16 brand-new council rent homes at Knights Walk, alongside 180 homes at council level rent delivered through partnerships with other providers. These brand-new homes have gone to local families, including many on the waiting list who were in poor or overcrowded accommodation.
A further 106 homes – 50 of them at council level rent – are under construction as part of the blueprint detailed in HfL's business plan. Planning consent has been secured for over more homes in the HfL programme.
Denby Court is a former sheltered housing scheme for older people, which has been used as temporary accommodation since 2017, pending redevelopment of the site. A day care centre for adults with learning disabilities, which shared the site,  will re-provided within new purpose-built facilities under construction at Coburg Crescent.
The new homes will include a mix of one, two and three-bedroom homes that will cater to various needs, including wheelchair accessibility. The plans also include new trees, improved shared outdoor spaces for all residents, including the local parks, and enhanced frontage on the three surrounding roads.
Cllr Matthew Bennett, Deputy Council Leader (Planning, Investment and New Homes), said: "I'm delighted that we've secured permission for even more new council homes and more new affordable homes at Denby Court in Kennington.
"Our programme through HfL is delivering hundreds of much-needed new homes and is building to much higher environmental standards than we're seeing from private developers."
Caroline Pillay, Chair of Homes for Lambeth Group said: "We are at the forefront of building more sustainable homes in Lambeth. Our commitment to build better homes focuses on energy-efficient designs, improving air quality, and improving lives by reducing fuel poverty. During construction, the site will create jobs for local people and when completed the new homes will contribute to the local economy."
Planning officers had recommended that the Denby Court proposal should be granted conditional planning permission, saying the development "would maximise housing delivery and provide much needed housing, including affordable homes (50% affordable)".
The planning officers' report into the application said: "The layout and scale of the blocks has been carefully considered with the two taller blocks generally located away from the more sensitive location adjacent to the Lambeth Walk and China Walk Conservation Area and lower scaled blocks located around the site's perimeter.
"Officers consider that public benefits flowing from the proposal would be capable of affording the necessary justification for the proposal, on the basis that those benefits are sufficient to outweigh heritage harm and giving great weight to that harm in the process."