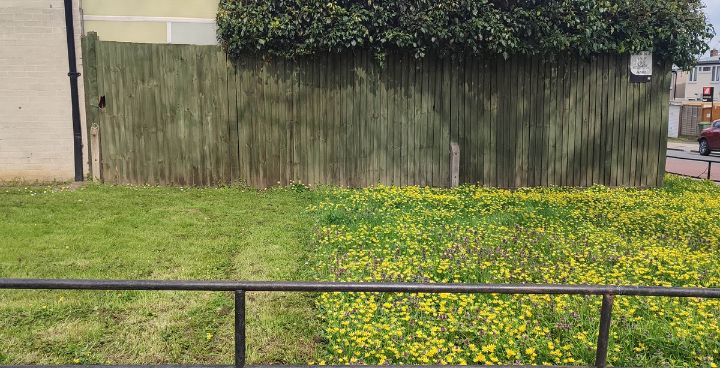 We're backing the campaign from 1 May, to allow grass and wildflowers to grow freely. This will provide habitat and food sources for pollinators such as bees, butterflies, and other insects. Pollinators play a key role in our environment but are on the decline due to loss of habitat and climate change.
Taking part demonstrates how small changes to the local environment can make big a difference for Lambeth residents and the borough's local wildlife. Following residents' feedback from last year's No Mow May, we're reducing the number of areas left uncut.
Lambeth Bee Roads
Supporting biodiversity is vital to tackling climate change, and that's also why, along with supporting No Mow May, we launched Lambeth Bee Roads, as part of our Pollinator Action Plan 2021 to 2025. The programme is set to transform thousands of metres of our roadside verges, into pollinator havens to help wildflowers and insects thrive.
This initiative builds on the work already done in many of the borough's parks and open spaces where the grass-mowing regimes have been relaxed leaving large areas of grass mown once a year or in some cases not at all anymore. Examples of this can be seen in Brockwell Park and at Clapham Common. 
So far local people have worked alongside the bee roads team to dig, plant, and seed wildflowers on Deronda,
Weir, and Myatt's Field South Estates. Also, roadside verges around Agnes Riley Gardens, Covington Way, and outside La Retraite School.
Word from Cabinet
Cllr Rezina Chowdhury, Lambeth's Cabinet Member for Sustainable Lambeth and Clean Air, said: "We are committed to taking local action alongside our residents to tackle the climate and ecological emergencies and boost our local environment.
"The No Mow May campaign and our Bee Roads initiatives are part of our wider and crucial efforts on the issue at a time when are witnessing the breakdown of climate and ecological systems."
Get involved
To get involved with local wildflower planting projects, with Lambeth Bee Roads, visit the Lambeth website.
To find out more about taking part in No Mow May at home visit the Plantlife website.
View the No Mow May 2023 locations.