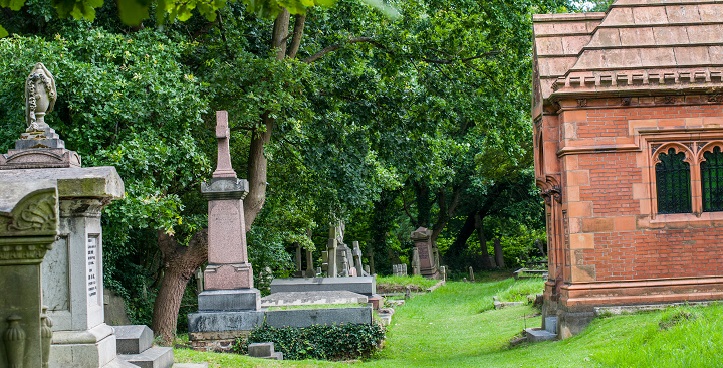 The ICCM Charter for the Bereaved sets an industry standard for the services people should expect at this difficult time. Lambeth has moved up from Bronze to Silver accreditation for burial services and gained Gold for cremation.
Cllr Sonia Winifred, Cabinet Member for Equalities and Culture, said: "We are committed to offering the best. We want Lambeth residents to know they will be looked after. ICCM isn't a regulatory body, but offers access to expertise and years of experience from cemetery managers and Crematorium teams. Their guidelines work as an effective code of practice as people's needs change."
Changing to meet needs
The funeral industry is evolving. People are interested in staying environmentally friendly. We accept 'green' coffins such as cardboard or seagrass and our cremators are fully mercury-abated. There are more 'I don't want a fuss' cremations, more 'no flowers' funerals for people who want money to go to charity, more MP3s of favourite songs instead of hymns. Brixton already has at least one funeral director who will visit you at home for people who aren't comfortable in the atmosphere of those offices.
Cultures
Different cultures have different needs, too. There's a tradition at Caribbean funerals for the family to pick up spades and fill in the grave. Our service includes someone on hand to ensure health and safety. At Lambeth Cemetery we offer a dedicated section for Islamic graves and we can offer Hindus a viewing room to watch the charging of the coffin which is very important culturally.
Raising the standard
Jacqueline Landy, Bereavement Services Manager, said: "Applying for the ICCM meant filling in an incredibly intensive questionnaire – 900 questions, including things like clear direction signs and wheelchair access, as well as people services. Along with the awards, ICCM offer guidance on how to maintain the Gold standard and improve our Silver to Gold next time. I'd already recognised some challenges while filling in their questionnaire. It confirmed our aim of getting all our staff accredited, for example.
Looking to the future
"We're hoping to introduce wildlife walks – the Friends of Streatham Cemetery are especially keen on a green space for nature. And we're aware that funeral poverty is becoming a real crisis – we're looking at ways to help, including an early morning cremation service which can help keep costs down for a family
Behind the scenes
"While we appreciate the recognition from ICCM, we never want people to come to a funeral or cremation and notice our service. We want to be the quiet help in the background at the most difficult time."
---