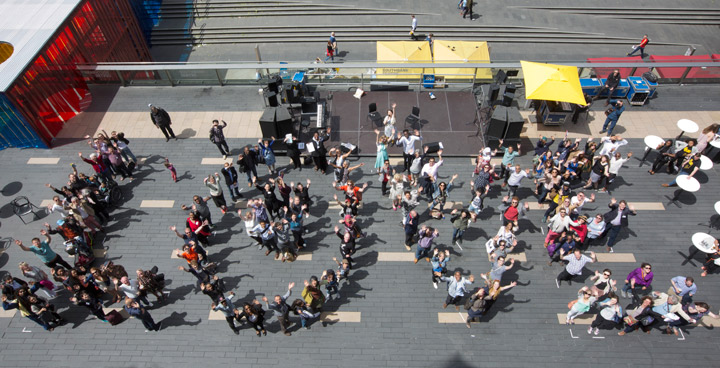 Inspired by Nelson Mandela's 67 years of service, Southbank Centre invited nominations for 'Change Makers', people who dedicate their time to improve the lives of others. Sixty-seven Change Makers were chosen and invited to a celebration at the Opening Weekend of the Festival of Love
A number of the Change Makers are supporting our communities in Lambeth:
Natalie Bell established SE1 United in 2003, a project based in Waterloo which delivers youth led programmes for young people.
Solomon Smith and Mahamed Hashi run the Brixton Soup Kitchen, providing hot meals for the homeless, vulnerable people and those who just need a bit more support.
Gary Crosby and Janine Irons lead Tomorrow's Warriors, an organization committed to ensuring broader representation of Black and female musicians in jazz music. The group rehearses regularly at Southbank Centre in Lambeth.
Leanne Pero founded Movement Factory, a dance enterprise in Lambeth that utilizes the power of street dance to keep young people focused and off the streets.
Jessica Burke-Peters, a retired primary school teacher who worked in South London primary schools for many years including Vauxhall Primary and Wyvil Primary.
Lee Dema founded the St Matthew's Project more than 10 years ago, offering free football and coaching sessions to young people in Brixton.
Mat Fox founded Kinetika Bloco in 2000, a project that provides music and dance opportunities for young people in South London. The group regularly rehearse at Southbank Centre in Lambeth. Sadly, Mat passed away in 2014 but his legacy continues and Kinetika Bloco continues to grow and thrieve.
Linda Tibbets founded The Small Project in Kennington, an organization that provides clothing bundles and basic equipment to families in financial need that are referred to them.
Find out more about the Southbank Centres Change Makers and other events and activities.