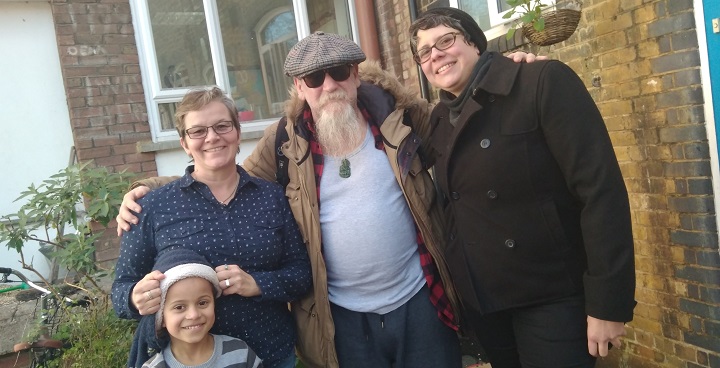 Lambeth's Disability Advice Service (DASL) is leading the way with supported swimming for Blind and visually impaired people.
Radio waves
They also run a weekly radio show where disabled people talk about rediscovering exercise and how it helps them both get healthier and feel empowered.
Back with a splash
Mark and Mujahid have both recently re-discovered swimming thanks to DASL's support.
Having not swum since 1992, and with a 10 year gap doing no exercise at all, Mark (pictured with his mentor and Abs Tripp from DASL) found out about the Supported Swimming Group through Metro Blind Sports and SELVIS (now London Vision), and now swims twice a week, once with DASL's Supported Swimming Group and once with his Intosport mentor, Ruth. He says he's feeling "massive mental and physical health benefits".
Mujahid lost his sight as a child, but through DASL he has rediscovered a love of swimming. Working with two DASL mentors since November, in just 6 months he has gone from swimming 10 to 70 lengths. He has also started ice-skating again.
Volunteers needed
Inspiring as stories like Mark and Mujahid's are, they're only possible through the support of volunteers to help our disabled swimmers. We would love to find experienced swimmers to help out and we are looking to set up supported swimming groups at pools in more Lamebth leisure centres. Please get in touch if you would like to be a volunteer.
For more information
Disability Advice Service Lambeth (DASL) is a Disabled People's Organisation which works with Disabled people, including those with mental health support needs, older people and carers, mainly in the London Borough of Lambeth. For more about DASL and sports and exercise for people with disabilities see their information pages
DASL's " Smashing Records" radio show is weekly at 3.30pm Wednesdays on Resonance FM. To hear an interview with Mark and his dasl mentor Ruth follow the link or listen to an interview with Mujahid
DASL's supported swimming group meet every Thursday, with one hour just for visually impaired people and one for a mixed group of adult learners. The group is supported by a swimming teacher each week and some wonderful volunteers. To join the group or volunteer contact Abs by emailor phone 07512 566 875