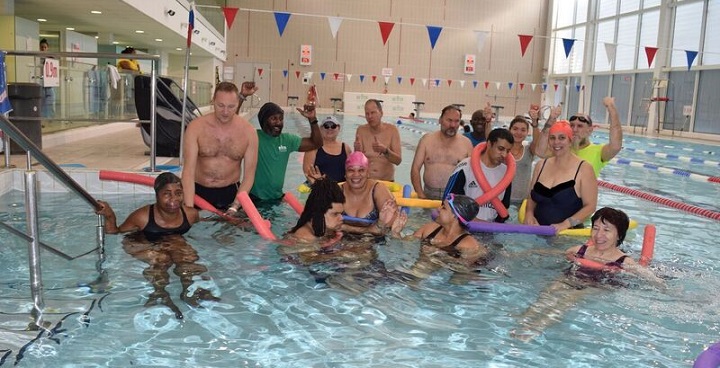 Disability Advice Service Lambeth (DASL) just celebrated the first year of its Supported Swimming Group for Lambeth residents. Set up with funding from Swimathon and Get Out Get Active and in partnership with South East London Vision (SELVis), Sense, Lambeth Council and GLL BETTER, the group has gone from length to length.
Making it happen
Hassan Khan from SELVis commented, "When we asked about a visually impaired swimming group, DASL just said yes and made it happen! This project has had some wonderful feedback from our members who would never have been able to swim but for this project, so many congratulations."
Learning together
Some of the group are disabled, some not, some terrified of the water, some Blind or visually impaired and some Deaf and Blind. They're all adults learning and improving their swimming together.
Support
DASL Co-ordinator Abs Tripp, said, "The group are amazing, the way they support each other is brilliant, one swimmer (I can call her that now she has learnt to swim) has helped one of our DeafBlind swimmers to travel here and taken another person swimming at The Castel Centre. We've seen terrified people, gain water confidence, it's so lovely as many had been told by the doctor to swim but were too scared to do it."
Swimmers say
"I love it.  Great fun and company and exercise as well."
"It's really doing my knee and general fitness a lot of good."
One woman in her sixties, who had never learnt to swim said she was 'over the moon' just to get in the water.
Splashing out
The group is supported by a swimming teacher each week and some wonderful volunteers. We would like some more experienced swimmers to help out and we are looking to set up similar groups at other Lambeth pools. So get in touch if you want to learn or improve your swimming or would like to be a volunteer swimmer.
For more information
To join the group or volunteer contact Abs by email or phone 07512 566 875
 For more about DASL and sports and exercise for people with disabilities see their information pages