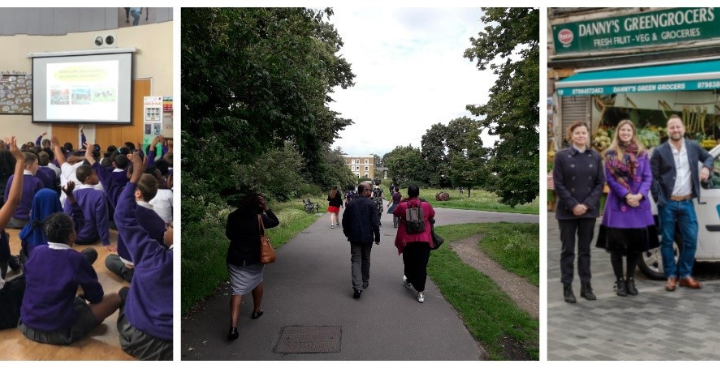 Every year, we celebrate National Clean Air Day with a week full of inspirational events to raise awareness of pollution issues and empower people to improve air quality in Lambeth. This year is no different, the only exception that most of our events will take place online. Find out what events will be taking place below.
Monday Marathon – Monday 5
After the huge success of the same in-person event for LCAW 2019, Sustrans will be virtually visiting five Lambeth primary schools throughout the day to deliver 'Air Quality Detective' sessions to kick off the week. Pupils will learn about the sources and impacts of air pollution by finding and solving clues in the classroom, guided by the 'air quality expert' who will be live-streaming into the classroom from Sustrans HQ.
Live Twitter Q&A – Tuesday 6
For the second year in a row, our Twitter account will host a live Q&A session from 11am to 2pm. We will answer all your questions on air quality, sustainable transport, schools streets, Low Traffic Neighbourhoods, cycle hangars, electric vehicles charging points and travel plans, active travel initiatives, climate change, flooding, adaptation. You can post all your questions to @lambeth_council using #LCAW2020
Dr Bike – Wednesday 7
Need bike repairs or advice? Dr Bike will be in Windrush Square in Brixton between 5.30-7.30pm for drop-in, free-of-charge service. View details for the Dr Bike event.
Air Quality Webinar – Thursday 8
To celebrate National Clean Air Day, we will host a webinar on air quality, which will be chaired by Cllr Claire Holland, Deputy Leader of the Council (Sustainable Transport, Environment and Clean Air). The webinar will be attended by organisations that tackle air pollution across Lambeth including, Idling Action London, Cross River Partnership, Guy's and St Thomas's Charity, the Green Doctors. Council officers will discuss the current projects in Lambeth to tackle air pollution and promote sustainable travel. Find out more and register for the event here.
Throughout the week
We will be celebrating air quality projects happening across Lambeth, through videos, images, and storytelling on our social media channels. While reading sessions aren't possible under current circumstances, our team will be sending environmentally-themed books to families in Lambeth with Doorstep Library to harness the power of reading to inspire and educate those who may not otherwise have access to such resources.
Competition time
We have also launched a competition for KS2 in Lambeth's schools, challenging pupils to make a pledge to take an action to combat air pollution and design an eye-catching poster. Entries (and winners!) will be shared throughout the week on Twitter (@lambeth_council and #LCAW2020).
We look forward to seeing you there!