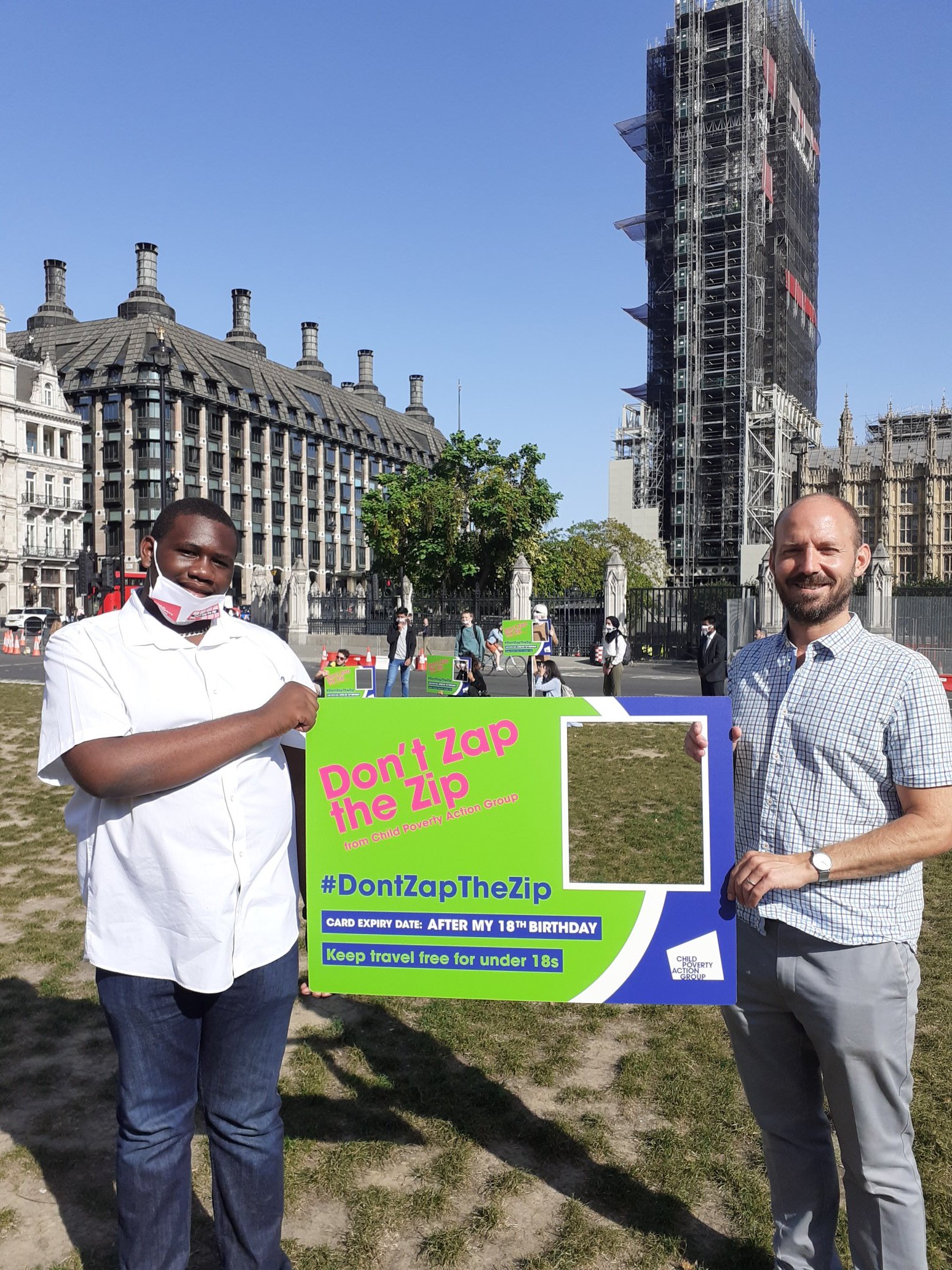 Lambeth Council Cabinet Members for Transport and Children, Claire Holland and Ed Davie, joined campaigners in Parliament Square to tell the Government to reverse their decision.
They met Lambeth-born 14-year-old Joshua Brown-Smith who started a Change.org petition against the plan that has gained more than 200,000 signatures.
A survey from Child Poverty Action Group (CPAG) shows the suspension will force some families to cut back on daily living expenses – including food – while restricting children's access to family, friends and out-of-school activities.
Another study for London Councils, which represents all 32 boroughs and the City of London, found that removing free travel will cost London's families £80 million a year – that is over £2.5 million a year from Lambeth families alone.
Children and young people in London have been able to travel around the capital for free, or at a discounted rate, using a Zip card, since former Lambeth Councillor Ken Livingstone, then Mayor of London introduced it in 2006. But in May the Government made the suspension of free travel for 11-17 year olds (and 18 year olds who turn 18 in their last year of school/college) a condition of its emergency funding agreement for Transport for London (TfL).
Child Poverty Action Group's Don't Zap the Zip campaign commissioned an online YouGov survey of over 1000 11-18 year olds and their parents. Almost three quarters (74%) of youngsters surveyed who have a Zip card said they used their Zip card to get to school or college. But if free travel for 11-17 year olds goes, only those who live more than two miles from their school or are classed as vulnerable will be able to travel to school or college for free from after the October half term
CPAG says the suspension will hit low income and Black, Asian and Minority Ethnic families the hardest – just as we go into a coronavirus recession – and calls on the Government to remove it.
Cllr Claire Holland, Deputy Leader and Cabinet Member for Transport, said: 'As we have heard from young people themselves the Government's plan to remove their right to free transport will make it harder for them to study, play and see their friends and families. Ministers must stop their attack on our families.'
Cllr Ed Davie, Cabinet Member for Children and Young People, said: 'Our Black, Asian and Minority Ethnic families, and those from the poorest backgrounds, have already suffered more than others from Covid-19 – this cut will plunge even more families into difficulties, kicking them when they are already down – Lambeth Council is on their side and will do what ever we can to stop this harmful change.'