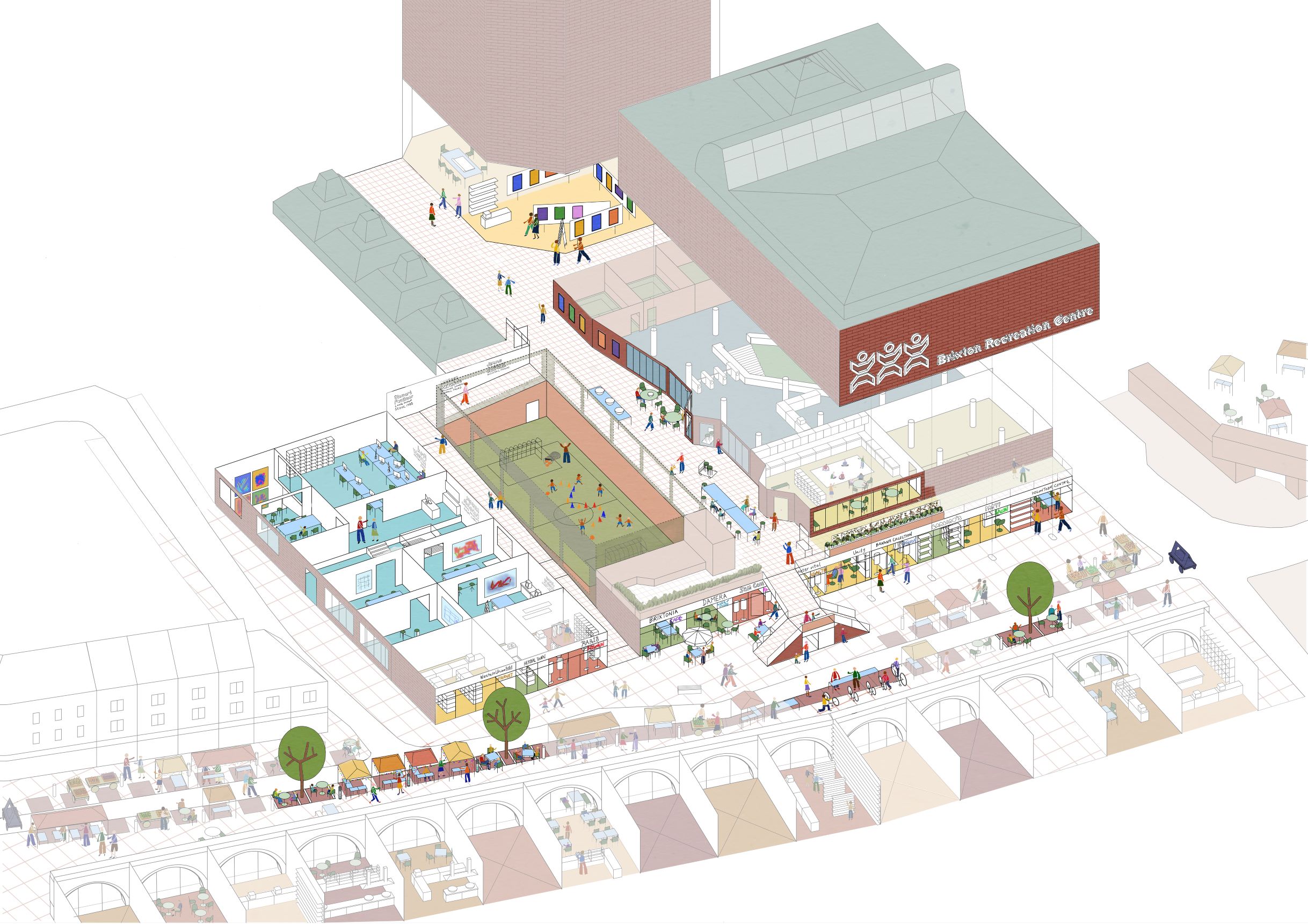 The project will see significant investment in central Brixton and increase skills, training and employment opportunities for Lambeth residents and businesses.
Brixton Recreation Centre will remain a staple feature of the area with planned refurbishments and a wider community offering for local people.
Designs have been developed by muf architecture/art working closely with local businesses and community organisations including Brixton BID team, the Brixton Market Traders Federation, Brixton Rec User Group, the traders of the street, Photofusion and Max Roach Adventure Playground.
Engagement also happened via market stalls last year, and formally through the planning process.
Cllr Matthew Bennett, Deputy Leader of the Council and Cabinet Member for Planning, Investment and New Homes, said: "These vital upgrades will greatly improve the experience for everyone who travels through or works within the Brixton Rec Quarter. It will enhance the current street scene around Brixton Station Road and Beehive Place.
"We have responded to call from our market traders for improved electrical infrastructure and better amenities for stallholders.
"Crucially the new workspace will benefit those looking to establish their businesses in Brixton and cement its place as a growing economic hub catering for a wide range of enterprises."
Work will be carried out in phases to minimise disruption for traders, starting with new power for market traders being installed starting this month.
The next phase will start in Autumn 2022 and all works are due to be completed by March 2023.
Alongside the commencement of works an oral history project to create an archive about the history of Brixton Recreation Centre will be launched. There will be community events to collect, celebrate and share the rich tapestry of people, events and organisations that have created life at the Rec, preserving it for future generations.
The overall £4million investment includes £2.17m from the Mayor's Good Growth Fund, £1.525m from Lambeth Council and £400k from the Corporation of London.
The upgrades to be delivered in stages over the next year include:
Replacement storefronts and signs at 13 shops
Reinstatement of the original Brixton Rec signage,  significant new lighting improvements  and a new Wall of Fame celebrating athletes along the ramp entrance to the Rec
An unused storage space in the basement and ground floor of Brixton Rec will be converted into workspace with a new entrance and windows onto Beehive Place, activating this street and supporting  employment, training and education activity
Market traders in Brixton Station Road will benefit from new electrical infrastructure
Public realm improvements on Beehive Place and Brixton Station Road including planting mature trees
The announcement comes after Lambeth Council confirmed London Square as its preferred development partner for the Growing Brixton Rec Quarter project that will see 240 new homes at 50 percent affordable rents and a total of 7,800sqm new affordable workspace at International House.
Cllr Bennett said: "These improvement works compliment the ambitious plans we have already announced with London Square, which will bring new homes, affordable workspace and economic opportunities to central Brixton.
"We are responding to the needs of local people by making the space around Brixton Rec safer and more pleasant for everyone."
For more information and updates about Revitalising Brixton Rec Quarter visit the project page at lambeth.gov.uk.