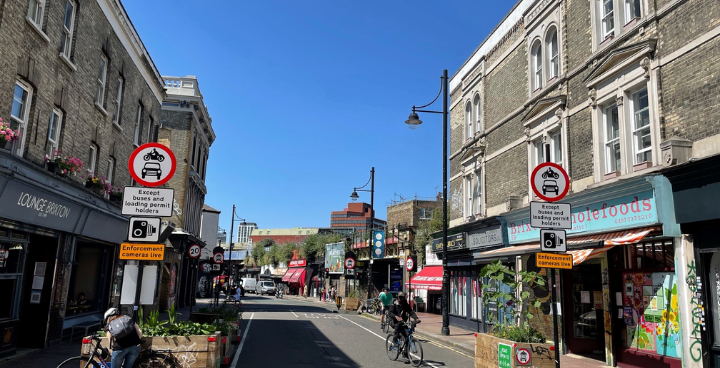 The council is consulting with everyone who lives, works and travels in these two LTNs on potentially making them permanent, and taking feedback to ensure the proposals are effective and work fairly for everyone.
Railton survey
Oval to Stockwell survey
Cllr Danny Adilypour, joint Cabinet Member for Sustainable Transport, Environment & Clean Air, said: "This is a great opportunity for us to work with our communities on the future of these LTN schemes and I would strongly encourage local residents to participate in the consultations and give us their feedback.
"We recognise that for some of our residents with disabilities car journeys are necessary and unavoidable, which we need to keep in mind if the LTN schemes are to be made permanent.
"After feedback from disabled residents we have therefore developed proposals for exemptions for Blue Badge holders to a single filter within an LTN and for taxis and ​wheelchair-accessible private hire ​vehicles to be able to use bus gates within LTNs."
The role of LTNs is to reduce motor vehicle traffic in order to improve road safety for all users, encourage more active and healthy travel, support the local economy, and to improve air quality by reducing pollution levels.
There are currently five LTNs operating in Lambeth and the Railton and Oval to Stockwell LTNs will be the focus of the first round of public consultations. Similar public engagement efforts for the remaining LTN schemes will be announced over the next few months.
Lambeth established the both the Railton and Oval to Stockwell LTNs last year as temporary measures to alleviate traffic during the Covid-19 pandemic. We have been continually monitoring its effectiveness by publishing regular reports online.
Our findings include:
In Railton LTN, motor vehicle traffic fell by 63 per cent inside the LTN and by 18 per cent when including boundary roads. It fell by 67 per cent on Shakespeare Road and by around 3,000 cars per day on Railton Road
In Oval to Stockwell, motor vehicle traffic fell by a quarter inside the LTN and by 8 per cent when including boundary roads. The largest reduction on a boundary road was 1,300 vehicles a day on Clapham Road
Cycling rates were high before the LTNs and have stayed that way. But on Railton Road they have nearly doubled, increasing by 92 per cent. There was an 87 per cent rise in cycling rates within Oval to Stockwell, with increases in cycling seen at 12 of the 15 monitoring locations.