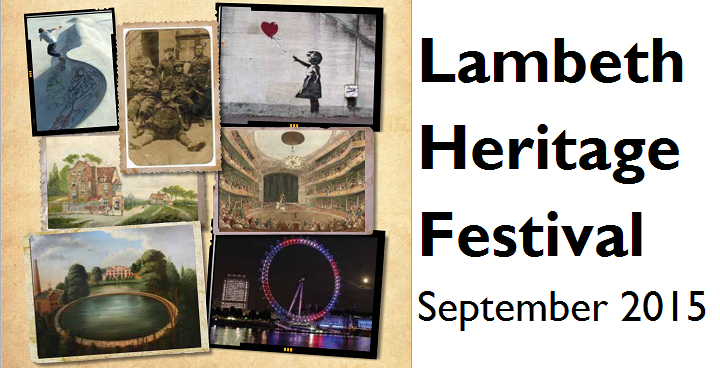 The Lambeth Heritage Festival is a month-long festival led by Lambeth Archives and the Lambeth Local History Forum, taking place throughout September 2015.
This year's programme is bigger than ever with over 60 events and with a host of new local organisations on board, allowing you to explore the underground vaults at Waterloo, sample Portuguese wine in South Lambeth, get instructed in the mysteries of Lambeth Palace's 500 year-old library or take a tour behind the scenes at the National Theatre. There is something guaranteed to be happening near you.
Here is just a small sample of the events taking place:
EXHIBTION – Water Lambeth at Morley Gallery 
This exhibition juxtaposes paintings, photographs, museum objects and maps, from Lambeth Archives alongside the work of contemporary photographers to document the vanished medieval village of Water Lambeth, the riverside Doulton pottery works that closed in the 1950s and the hidden course of the River Effra.
See page 4 of the festival programme for more information.
EVENT – Lambeth Archives Open Day
This year's open day features Lambeth's local societies and a medley of talks and displays at Lambeth Archives and the nearby Michael Church and Longfield Hall.  The day's highlights include a talk by Hannah Walker, Editor in Chief of the South London Press as it celebrates its 150th Anniversary;  film screening of 'Dangerous women protesting against WW1', produced by the Clapham Film Unit and a talk by Dr. Andrew Maunder 'Tommies, spies and shirkers: re-discovering First World War theatre'.
See page 26 of the festival programme for more information.
WALKS – Ted Hollamby and the architecture of Post-War Lambeth
To coincide with the publication of Edmund Bird's and Fiona Price's, "Lambeth Architecture 1965-1999", Ian McInnes of the C20 Society will lead two walks looking at social housing schemes carried out between 1965 and 1975 by Lambeth Council's Architect's department under Ted Hollamby.
See page 11 of the festival programme for more information.
TALK – Remembering Somerleyton Road and Geneva Road
In the 1950s and 1960s Somerleyton Road and Geneva Road formed the nucleus of the Caribbean community in Brixton. By the 1970s the huge, run-down houses were demolished and the community scattered. Join Kelly Foster, Donald Hinds and George Fowokan Kelly as they remember the buildings and communities of the two streets and reveal new research about why Somerleyton-Geneva was so important.
See page 25 of the festival programme for more information.
WORKSHOP – Our Place in World War One
What was happening where you live a hundred years ago today? Using original documents, set in context by leading historian, Dr. Dan Todman, Senior Lecturer at Queen Mary, London, this workshop will help you discover what life was like for families living in your area during WWI. Supported by the Gateways to the First World War Public Engagement Centre.
See page 24 of the festival programme for more information.
Find out more
To get the full details of what's on, pick up the the festival programme in any Lambeth library or download it from www.lambeth.gov.uk/heritagefestival Although almost all events are free many require booking.
You can also view the Lambeth Heritage Festival 2015 programme online.