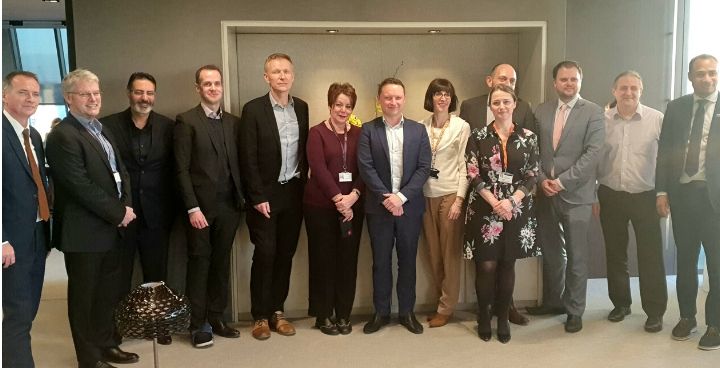 (Picture: Lambeth Council's Chief Executive Andrew Travers (first on left) and Cllr Gadsby (centre – 7th from left) joined representatives of housing associations in the borough to sign the Lambeth Housing Partnership).
Lambeth Housing Partnership
The Lambeth Housing Partnership 'Memorandum of Understand' was signed on Monday, January 20, and is the first of its kind in London. It aims to find more cost-effective and efficient ways of providing housing services, as well as addressing a range of issues including building new homes, tackling homelessness, improving safety on estates and boosting youth opportunities.
The housing partnership work plan is based on Lambeth's key priorities which are contained its Borough Plan.
Word from Cabinet
Cllr Paul Gadsby, Lambeth's Cabinet Member for Housing, said: "This is an exciting new partnership between Lambeth and local housing associations that will provide a platform for us to tackle, with residents, the big housing issues facing our borough."
Working together
In Lambeth, the plan will apply to the 26,000 council managed homes and a further 24,000 homes managed by housing associations. The work plan covers 2020 to 2023 with aims, goals, and priorities scheduled for joint attention over the period.
Alongside Lambeth Council, The Guinness Partnership Ltd, The Hyde Group, Network Homes, Optivo, Wandle Housing Association, The Peabody Group, Ekaya Housing Association, London and Quadrant Housing Trust, Notting Hill Genesis, and Metropolitan Thames Valley signed the memorandum.