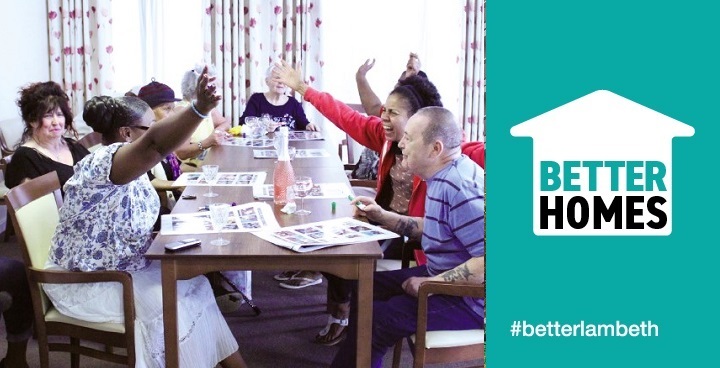 Lambeth Council pledged to invest over £450m in works to make council housing meet the Lambeth Housing Standard (LHS) agreed by residents. Works to improve homes in 2017/18 include internal and external makeovers on older people's flats in Macintosh Court, Streatham. Residents of Macintosh Court's 45 flats celebrated the successful completion of LHS work to communal areas with an afternoon of musical bingo and a fish and chip supper supplied by Lambeth's construction partners Engie.
Musical bingo rules
ENGIE's Community Impact team worked with Lambeth Council's scheme manager Dinah Amo to explain the rules of musical bingo. It's different from ordinary bingo because your bingo card has pictures of singers or groups from the 60s, 70s & 80s and you need to recognise the song being played and circle the photo of who sang it to complete a line or full house. Bingo prizes included chocolates, luxury biscuits and Prosecco. Residents were then treated to a traditional fish and chips meal.
Work done and work to be done
New, heritage approved, timber window frames in every flat and the communal lounge
Refurbished communal areas – kitchen, lounge, toilets and laundry room, stairwells, new ceilings, and works to stair nosing and glass canopies
Concrete repairs
New 'Macintosh Court' signage. The building used to have a plain street number, but when Historic England listed the building, it was renamed in honour of architect Karen Macintosh.
Next stage is to start on upgrading kitchens and bathrooms in the residents' flats.
Happy to celebrate
Scheme manager Dina says: "The residents really enjoyed the musical bingo to celebrate the completion of the communal lounge and kitchen into somewhere bright and very welcoming. ENGIE contractors have really transformed the communal lounge to be like a five star hotel. The residents really enjoyed the afternoon and are very pleased with the transformation."