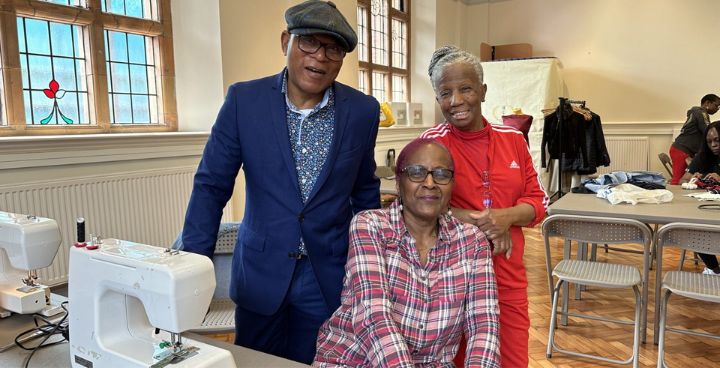 To minimise the closure time and ensure the community was able to use the library as soon as possible the council has arranged for Carnegie to re-open before all the work is complete in a way that lets people use most of the space.
Cllr Donatus Anyanwu, Lambeth's Cabinet Member for Stronger Communities, Leisure and Sport, said: "Carnegie Library is housed in a beautiful building in the heart of its community, and I'm delighted at the quality of work undertaken so far having visited this week.
"Re-opening it to the community as soon as possible was a priority for us and I now look forward to all the work being completed soon."
On Tuesday talented and experienced seamstresses Maude and Hazel were running a craft session for local people at the library for people wanting to learn how to sew, knit or crochet.
Maude Estwick, took a break from helping others to say that she was pleased with the re-decoration and how much she valued the library as a community hub.
Before she came to England from Grenada, in the Caribbean, after being recruited to study and work in a hospital, she had unexpected success after making a shirt for a steel pan band player. Soon other steel pan band players in Grenada wanted similar shirts, and Maude had a skill that has stayed with her for life.
She said: "I value this library with my life. All my children used this library when they were children, and they all now have successful careers. It's so important for the local community.
"After I retired in 1988 I said to myself I'm still young and decided to keep working in the community. Here we teach people knitting, sewing and crochet. People bring their ideas, their fabrics and we help them create their vision."