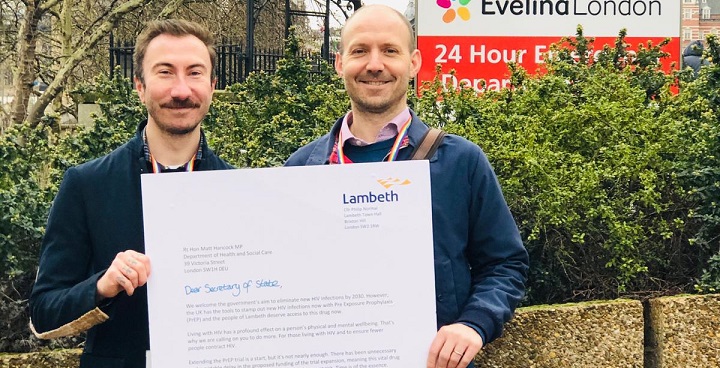 Lambeth councillors have called on the health secretary to properly fund a treatment that has been shown to cut HIV infections.
PrEP impact Trial
On March 6 Cllr Ed Davie, Cabinet Member for Health and Adult Social Care, and Cllr Philip Normal, delivered a letter to the Department of Health signed by Lambeth councillors urging the government to properly fund the PrEP Impact Trial.
Highly effective
Pre Exposure Prophylaxis (PrEP) is a medicine that can be taken by at risk people and has been shown to be highly effective at stopping HIV infections among those who take it. Lambeth hosts the London HIV Prevention Programme (LHPP) which has contributed to the decrease in HIV infections in at risk groups by nearly half in London last year.
Concerns about resourcing
The government has announced plans to extend the PrEP Impact Trial but this has been met with concerns about resourcing. Lambeth councillors say that increasing the trial in this way without including other options for trial participants to access Sexually Transmitted Infection (STI) testing, such as through e-services, or providing the funds to expand places risks overwhelming Lambeth's public health services which have already been cut by the government.
Public health cut
Lambeth's public health grant from central government has been cut by £5.1 million in the last 4 years. Despite funding pressures, Lambeth has not cut funding from sexual health prevention and promotion services. Lambeth spends a third of its public health grant on sexual health and HIV prevention. As well as hosting the LHPP, which developed the award-winning Do It London campaign, Lambeth also commissions a successful and well-used sexual health promotion programme across Lambeth, Southwark and Lewisham.
Word from the Cabinet
Cllr Davie added: "Every new HIV diagnosis is a government failure, and with time being of the essence, we cannot delay in sending a strong message to the government that action needs to be taken now. Our letter asks for the PrEP Impact Trial to be properly funded to reflect the real life costs of implementation, particularly to local government who fund sexual health services. We welcome an increase in places on the trial so that we know the extent of opportunity to prevent new HIV infection. To ensure a sustainable future the full costs of PrEP which will follow a full national roll out of PrEP need to be understood and this needs to be properly funded. Not only is this right thing to do but preventing infections saves the taxpayer many millions of pounds."