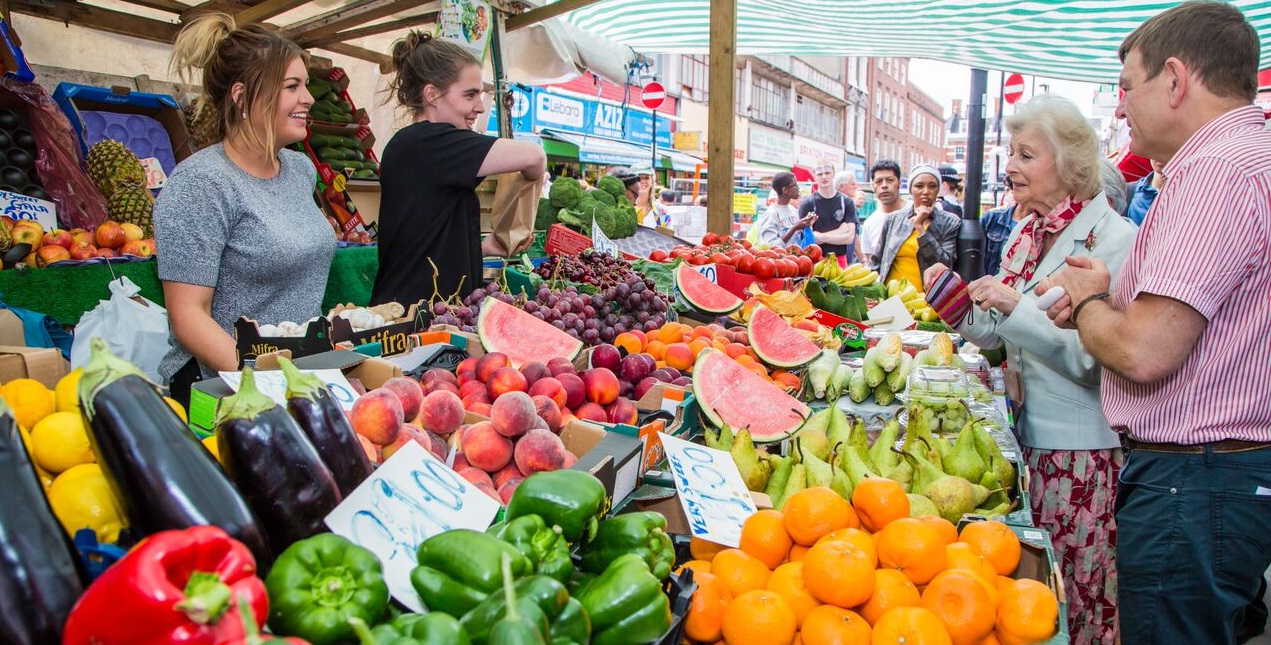 Lambeth is also host to the fruit and veg on prescription project run by the charity and AT Beacon Project in partnership with the council to help adult with health conditions that can be improved by a healthy diet. In Lambeth both scheme's Rose Vouchers can be spent at local retailers in West Norwood, Streatham and Brixton Market.
Cllr Jim Dickson, Lambeth's Cabinet Member for Healthier Communities, said: "Alexandra Rose Charity have been helping families in Lambeth afford fruit and veg and supporting people to give their children a healthy diet for more than eight years.
"Over 1,800 families in our community have benefitted from the Rose Vouchers for Fruit & Veg Project, with £274,973 worth of Rose Vouchers spent in local markets and with independent retailers in Lambeth.
"Rose Vouchers are a vital part of the support for the community in Lambeth, supporting families with young children alongside people receiving Fruit and Veg on Prescription and the local economy. The Alexandra Rose Charity has contributed significantly in helping to alleviate food poverty in the borough."
Due to the ongoing cost of living crisis food shopping is now making up a far bigger share of a typical household's financial outgoings, with the average rise in food costs since 2020 now up by £1,000, compared to £900 for energy bills over the same period.
Anika, a mum from Lambeth, said: "I have four children, from 14 years old to a one-year-old. I'm in the supermarket multiple times a week. What I get can't last us, my money just can't stretch to what I need for my children.
"Having Rose Vouchers means I don't have to worry as much about fruit and veg as I know I've got the means to buy those things. It also means I've got an extra couple of pounds to put towards something else. I've started to save some vouchers each week, so I have enough to get the extra food I need during half-term and the holidays. I use every voucher I get."
Since 2014, Rose Vouchers have supported 9,351 families and 17,380 children to access fresh fruit and veg in their communities from 66 different children centres and community organisations. At the end of May 2023, two million Rose Vouchers will have been spent with 58 different market traders and greengrocers.
Denise, a fruit & veg trader at Brixton Market, said: "The Rose Vouchers for Fruit & Veg Project works really for us. It's brilliant. We joined right at the start, about six years ago, as we wanted to support other parents. There are no words other than It's fantastic. It's a shame it can't be in all boroughs. People want to support local families."
It took the Alexandra Rose Charity seven years to get to one million vouchers, but only 18-months to get to their second million. The charity says diet-related ill health costs the NHS billions every year and is limiting the life chances of people on low incomes.
Jonathan Pauling, Chief Executive at Alexandra Rose Charity, said: "We are incredibly proud of what we have achieved over the last nine years. We started small by testing the Rose Vouchers for Fruit & Veg Project in local communities in London. As news spread of its effectiveness at combating food poverty and promoting healthier diets, we received requests from other locations across the UK to expand the project.
"This shows how quickly the project can be scaled to meet rising demand but also, sadly, is an indictment of the impact of both COVID-19 and the cost-of-living crisis on families on low incomes across the UK.
"Demand for our work still outstrips our capacity, and although we celebrate this milestone, we continue to worry about the huge challenges families face up and down the country."