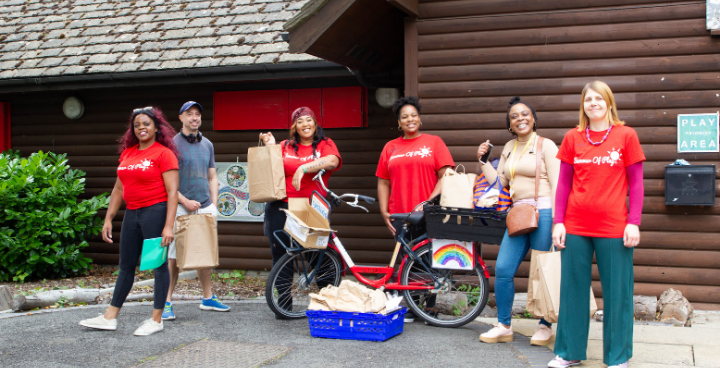 The Lambeth Made Charter Mark Awards for Business and Young People took place online on March 2 after the public was asked to nominate businesses that made the biggest difference. The awards were co-hosted by Shaffiuqe Prabatani and Malvina Edwards-Drayton; staff members from Lambeth Made.
Winners were announced recognising the outstanding work of employers, apprentices, and organisations for their vital contribution to the young people of Lambeth.
Community impact
The Community Impact gold award was shared by two Lambeth organisations that use music to inspire young people.
Michelle Killington, of Vinyl Memories, was recognised for organising community events in Lambeth, producing the Youth Jam Festival and holding online events management courses for those aged 17-19.
She said: "Receiving the award, has allowed me to feel truly valued, in what at times when strategising, and working on a lengthy project can feel very challenging, and frustrating.
"By receiving an award for my dedication to the next generation of future leaders, will push my drive even further."
Michelle shared the award with Junior Open Mic that regularly holds free open mic nights for young people in Lambeth to showcase their musical talents.
Since the start of the Covid-19 pandemic, JOM has shifted focus to online events through social media to give a creative outlet to scores of young performers.
Andy Gray said: "We are honoured to receive the Lambeth Made Gold Charter Award.
"We're just a community group relying on volunteers to help young people feel special during their performance.
"I really hope this recognition will encourage even more young people to step up and perform and volunteers to step up and help them."
Gold standard
The National Trust was named as Best Work Experience Provider for its volunteer programme that saw 60 young people from Lambeth College take part in developing safe outdoor space at Morden Park Hall last summer.
Jessica Taylor was given a gold award in the Exceptional Young Apprentice category for her progress in a four-year childcare apprenticeship despite the unique challenges of the Covid-19 pandemic.
Saint Gabriel's College was the winner of the London Living Wage category after its work ensuring agency workers, caterers and service providers were paid the LLW.
Four Communications was the recipient of the Lambeth Youth Opportunities Fund gold award for its support of the youth sector in Lambeth.
The awards were organised by the council, Lambeth Made, Lambeth College, LDN Apprenticeships and the Lambeth Youth Opportunities Fund.
It was the second event held online recognising the impact of partnerships on the youth sector since the start of the pandemic.
Word from cabinet
Cllr Jack Hopkins, Lambeth Council leader, said: "Businesses are going to be the key for the future to unlocking the potential and opportunity for our young people.
He said: "Making sure our businesses survive and grow – and they can then bring young people work experience that gets them the break they need, teach them the things they need to know – is critical for us."
Find out more
For more information contact opportunitylambeth@lambeth.gov.uk