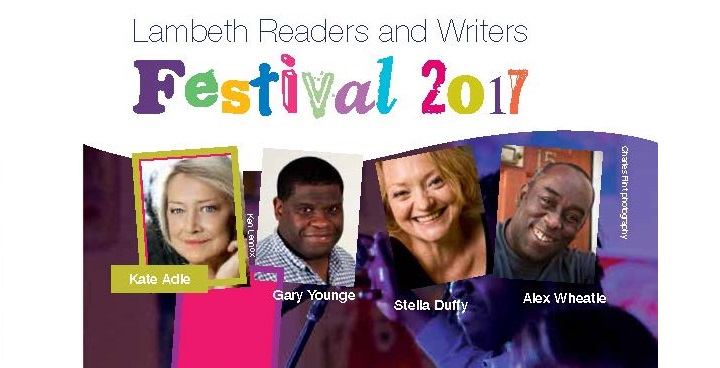 This year's highlights include a fantastic Polish Poetry festival, journalist and author Kate Adie headlining a day of literary delights at Omnibus Arts centre, philanthropist and writer Laurie Marsh, the first preview of the film of local award winning writer Alex Wheatle's Brixton Rock, Caribbean family history expert Paul Crooks… and so much more culminating in an evening with the brilliant journalist Gary Younge. All welcome.
Cllr Sonia Winifred,  Cabinet Member for Equalities and Culture, said:
"I am delighted to welcome you to the Lambeth Libraries Readers and Writers Festival. Since the first festival some 13 years ago it has become a regular highlight in the Library calendar and goes from strength to strength. In 2017 we have another month of events to suit all tastes whether you enjoy reading, writing, discussion or simply sitting back and listening. Come and join us and express yourself! You'll be amazed at the fun you can have in your local library."
Twitter: @ReadersWritersF Facebook: LambethReadersAndWritersFestival
Some highlights include:
Ksiazkowisko festiwal – Polish Poetry
Friday and Saturday 5 to 6 May
Streatham Library
Clapham Book Festival
Saturday 6 May
Omnibus Arts Centre, 1 Clapham Common Northside London SW4 0QW
The Philanthropist's Tale: The Life of Laurie Marsh
Monday 15 May, 6.45pm
Durning Library
Brixton Rock the Film – short preview with writer Alex Wheatle Q&A
Saturday 27 May, 7pm
Brixton Library
Ancestry Talks – Roots 40th Anniversary with Paul Crooks
Wednesday 31 May, 6.30pm to 8pm
Clapham Library
Another Day in the Death of America with Gary Younge
Wednesday 7 June, 7pm
Brixton Library
Drop into your local library for full details or contact email readersandwriters@lambeth.gov.uk.