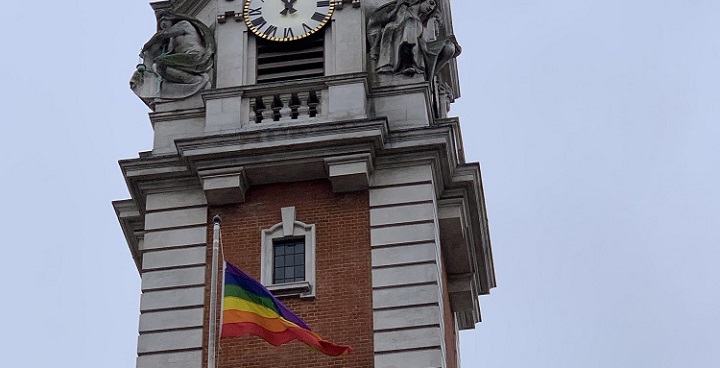 Lambeth marked 2019 LGBT+ history month by joining the Stonewall Diversity Champions Programme.
Commitment to equality
While Stonewall is closely linked to the LGBT+ community, letting our partners and customers know that we're an active part of the network helps to send a message about Lambeth's real commitment to our overall Equality, Diversity and Inclusion programme.
Partnerships
Alongside work being done by the council's Equality Commission on taking away barriers that disadvantage some people in Lambeth,  our pilot work with our partners in the NHS on LGBT+ issues, the council's support for the AccessAble initiative to keep people with disabilities informed about the user-friendliness of public buildings, and partnerships with organisations like Black Thrive, we want people to see this as a statement from the Council about being inclusive.
Word from the Cabinet
Cllr Sonia Winifred, Cabinet Member for Equalities and Culture, said: Stonewall will act as an objective and critical friend. They will advise on issues like reviewing employment and service policies, and day-to-day work like how we use pronouns to make sure trans people are included. We will also be able to call on them to support us in making it clear that Lambeth is a positive place and help us recruit from a pool of talented LGBT+ people"
Recognition
Becoming Diversity Champions is a catalyst for boosting public recognition that Lambeth will deliver against agreed Equality, Diversity and Inclusion targets. It means a lot to people working for Lambeth to be recognised as Diversity Champions during LGBT+ history month,
100 best companies
Stonewall publishes a yearly list of the 100 best companies for LGBT people to work for. Lambeth aims to work with them on being recognised as committed to equality for our people and our customers, And in time we hope to share good practice lessons throughout Lambeth. Membership of Stonewall also links us into a wider network of best practice employers and organisations who provide services that match the needs of a diverse community.