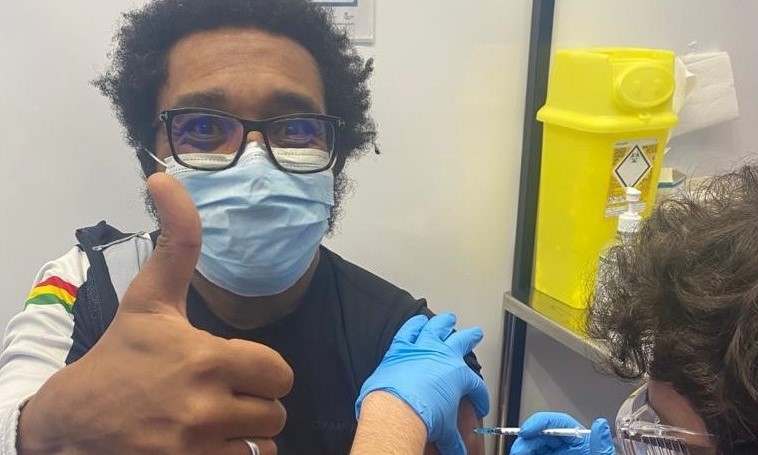 As well as reaching out into the community, Lambeth council is also focusing on reassuring its staff, 40 per cent of whom live in the borough and 60 per cent of whom are from Black and minority ethnic backgrounds. They are influential and connected people in the borough so ensuring that they are reassured about the vaccine, and that they have the right information to share on it, is critical.
Word from the Cabinet
Councillor Jim Dickson, Lambeth's Cabinet member for Health & Social Care, said: "Lambeth council is backing the vaccination campaign and supporting the NHS, GPs and pharmacies in its rapid roll-out. But at the same time we people in our communities rightly have questions about the vaccine, particularly among out Black and minority ethnic residents.
"We are acknowledging that the rapid development of this vaccine has raised questions in people minds, and the structural racism experienced by our Black and minority ethic residents means that for many their trust in authority is justifiably eroded. So this campaign is incredibly important."
Lambeth: Staff member discusses getting the Covid-19 vaccination
Lambeth Council staff member Hubert Humphrey (pictured) received the Covid-19 vaccine at St Thomas' Hospital in Lambeth on Thursday and said he would it was a heartening experience.
Hubert, 55, who has worked for the council for 12 years and is a Better Start Training and Employment Officer, was invited to take the vaccine as he works in the front line of children's health and social care.
The father of five who lives in the borough said he wanted to share his story to reassure others, especially local people from African-Caribbean and African communities.
Where did you get the vaccine done?
I had it done at St Thomas' on Thursday and it was very efficient and fast, I was there for just 25 minutes in total, which includes 15 minutes afterwards where you wait to see if you have any side affected. The staff were lovely and caring. I was amazing at just how efficient the process was, and overall it was a very good experience.
There were people from all different walks of life there getting their jabs, it was really heartening to see.
How did you get called?
I got a text message on Thursday morning saying that I could get the vaccine, and that I should call the number given or email. I just phoned and they said right, took my details and invited me in the same day. It was that fast, from calling to getting the vaccine was three hours. I'm a front line worker out in the community meeting children and families, working with the public which is why I was keen to call back straight away.
Did you have concerns?
I was nervous beforehand, but I felt I have to do this, and also wanted to show other Bame people that actually this is ok and you're going to be fine. Especially for African-Caribbean and African people, I want to say you're going to be fine, have your jab and we can move forward. I have the date for my second jab already which is great, and I'll be back there in April for my booster.
I just a have sore arm today, a day after the vaccination, but nothing to stop me from working, and am working from home again today.
How did you family react to you getting vaccinated?
My daughter is pregnant and a teacher, and she's just recovering from Covid-19 herself and it seems to be going slowly – but she was delighted and encouraging about my getting vaccinated. The other kids were like go for it. One daughter is a bit skeptical and wants to find out more.
When I got vaccinated they gave me a really good fact sheet about what's in the vaccine, what side effects to expect and contact details to find out more. I've shared that with her and she's quite happy about that. You're informed every step of the way which is great.
I would recommend the vaccine and if you have any doubts speak to your GP – that's the most important thing I can say.
Sharing information
A Covid-19 special publication from the council has gone through every letterbox in the borough addressing the vaccination, and a single source Q&A is available online as the reassurance campaign continues:
https://selondonccg.nhs.uk/what-we-do/covid-19/covid-19-vaccine/