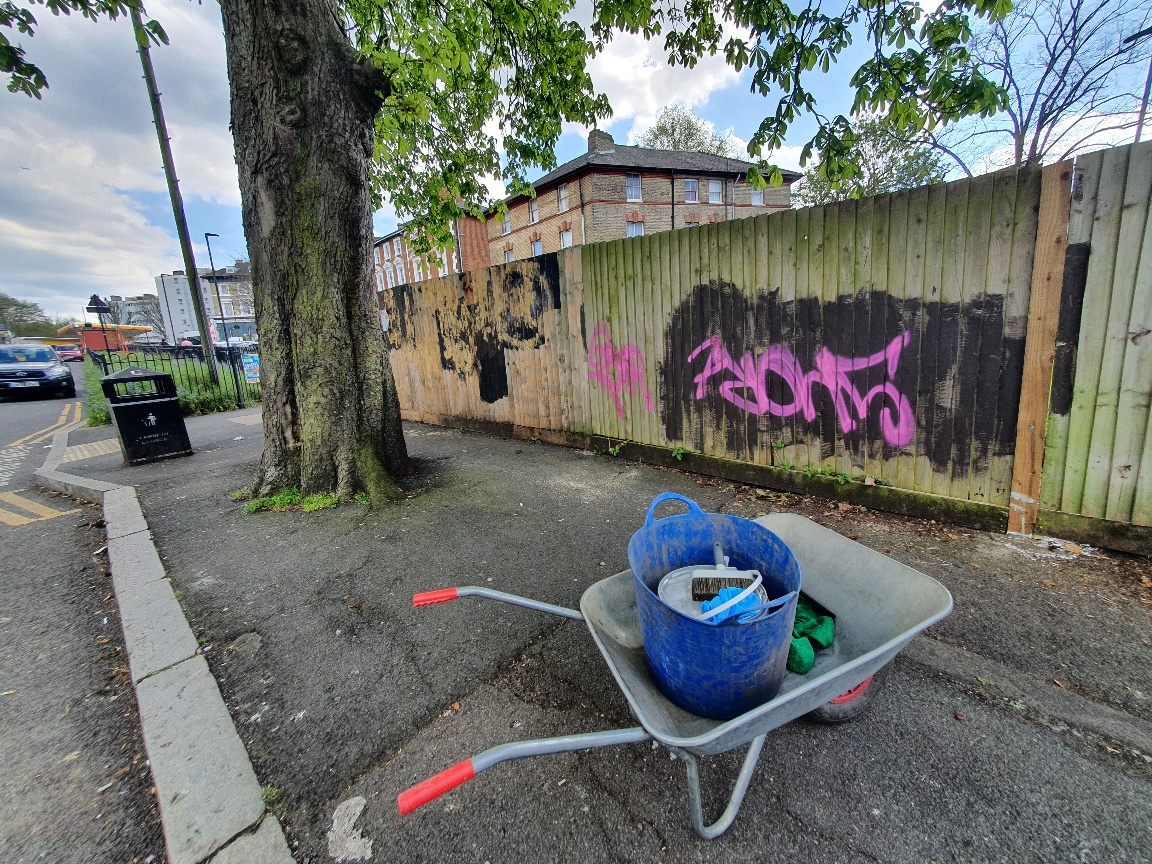 Back in February, Storm Eunice hit the UK on Valentine's Day with the strongest winds in 30 years. One victim was the fence on Sainsbury Road opposite Gipsy Hill Station – which over the last two years has been subject to increasing amounts of  graffiti. Now, thanks to partnership work bringing together the Friends of Gipsy Hill, Lambeth's new Wellbeing Hub network, and the Lambeth Housing team, the Sainsbury Road fence is fully restored. At first it stood with its old graffiti showing – but now it's been re-painted by local volunteers.
Thanks to partnership work
Lambeth provided the materials and training for Friends of Gipsy Hill volunteers to do Graffiti repairs. Huge thanks to Lambeth's Neighbourhood Housing Officer for organising it and Resident Participation Officer for plugging away to confirm that it belongs to Lambeth.
Garden friends
The Friends of Gipsy Hill group was set up initially 2018 to support the transformation of formerly derelict waste land into Gipsy Hill Community Station Garden.  Now, there are 20 members in the "The Gipsy Hill Gardeners" dedicated group gardening,  with over 2,300 members via Facebook who help with other projects – and getting involved now turning in a new "parklets" project.
Trains and drains
Sainsbury Road is a core area for our volunteers, with changes including Station Square made with help from Lambeth "Our Streets" funding, our first mural with Network Rail; (what we think) is the best volunteer-made (and maintained by a volunteer drain team) French Drain in South London that stops our garden getting flooded; and working with Lambeth to repair a broken gully near the Berridge Road estate so the community no longer need to literally wade across to the station after heavy rain.
More information
Now, the Friends also support the Council's #HealthGipsyHill initiative with the Norwood Forum and Lambeth's new Health and Wellbeing Hub.  See https://gipsyhillfriends.org/about-us/  for more about us.