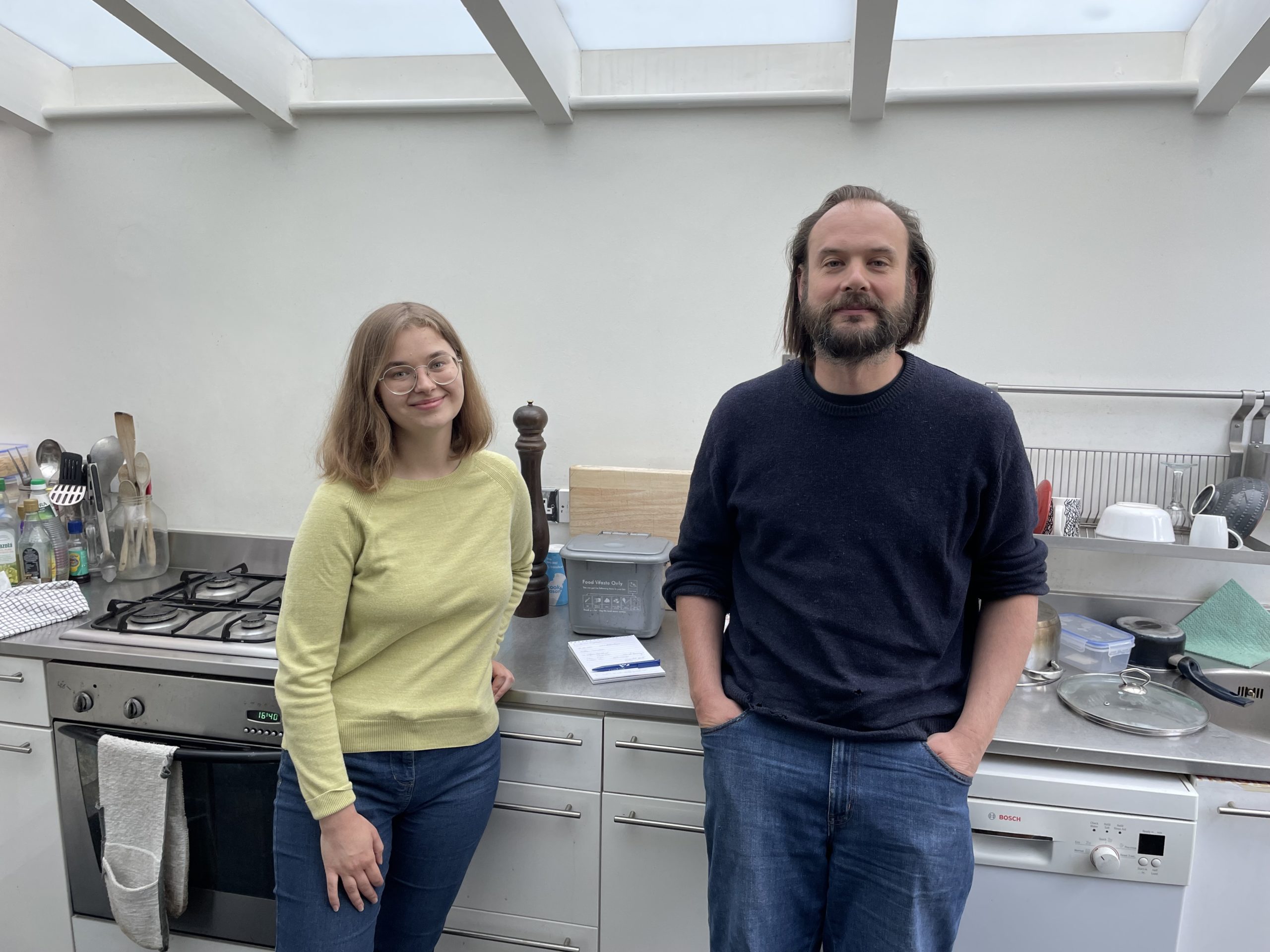 Among those to seek sanctuary in the borough is Svitlana Prystupa (pictured left), an English teacher who was forced to leave her family home alongside her mum and siblings after Russian missiles began hitting their city Kharkiv.
She is now here being housed by her sponsor, Lambeth resident Henry Senior, who applied to the Homes for Ukraine scheme after witnessing reports the brutal impacts of the Russian invasion.
Svitlana said: "Of course I had concerns, going so far, alone, living with people I do not know.
"I really wanted to stay at home in Kharkiv, but seeing how many buildings were being destroyed it became clear that it was just a matter of time before our building was hit, and so I told my family we needed to go somewhere safe.
"The decision to leave our home, and the decision that I would come to the UK was very hard, but at home all I could do was be afraid. I couldn't work, I could barely sleep, I couldn't eat properly. My whole time in Kharkiv after the war started was spent in my corridor covering my head and trying to stay safe in case a missile hit."
Svitlana, 26, her mum and two siblings first became internally displaced within Ukraine seeking safer cities further from the Russian border, before being forced to flee the country to neighbouring Poland. She flew to the UK on her own on April 7 once the administration, both locally and nationally was completed.
Henry said: "I initially signed up as an expression of interest to join the scheme, and then separately later as a sponsor once I was in touch with Svitlana.
"Watching the war start was horrific, and seeing the reports about Polish people welcoming Ukrainians into their homes really highlighted the need. I wanted to help and contribute as an expression of solidarity with the Ukrainian people, it felt like something I could actually do in the face of this Russian aggression."
He said: "The initial application wasn't too bad via the Government's website, but once you'd completed it there was no notification the application had been received currently, or was in a queue. I wasn't initially sure if I needed to start it again, or just hope that it worked.
"The second stage was also ok, but it also wasn't clear if the documents we'd submitted had been received. However once Svitlana was here the support we have both received from the council has been good."
Henry, 48, was also supported by Dulwich and West Norwood Labour MP Helen Hayes who helped track the documentation prior to Svitlana's arrival, and was able to share that the application had gone through successfully ahead of official notification.
Lambeth Council checked the home to ensure it was suitable in advance, helped Henry complete an online criminal record check and visited them both to ensure the sponsorship arrangement was progressing as intended. The council also administers the Homes for Ukraine immediate financial support for arrivals, and has boosted this locally from £200 to £300.
Svitlana said: "Thank goodness everything is ok here and Henry is a good, decent person. But the regular phone calls and checks made by the council are really good in case there is something wrong with a sponsorship arrangement, it's important work to keep people safe."
A journalist from Channel 4 who interviewed Svitlana when she was in Kharkiv and in fear for her life, has helped her find work in London at the channel as a translator. Henry has helped her register with a GP, join Lambeth Libraries and open a UK bank  account. She is staying in touch with other Ukrainians seeking safety in London via online chat groups and the Ukrainian Social Centre in West London.
Svitlana said: "I'd never been to London before it's amazing, a gorgeous city, I love it, but I do want to go home when it is possible. It is so hard to plan for the future right now even though I am someone who does like to plan and know what's ahead.
"I do feel a bit lost, and under pressure to make decisions for the rest of my life, while also taking this time to recharge and relax a little bit – but I don't know how to balance those two conflicting things. I think a lot about when the war ends, how soon I can I return and how I can best contribute to the future of Ukraine."
For more information on the Homes for Ukraine scheme visit lambeth.gov.uk/housing/homes-ukraine-scheme.