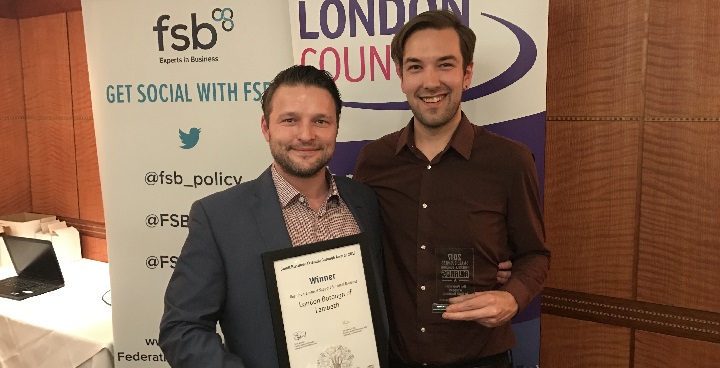 Lambeth were named joint winners of the award for Best Programme of Support for Small Business for the Lambeth Works affordable workspace programme.
Sutton were the other winners in the category at the Small Business Friendly Borough Awards, highlighting the pivotal role played by London boroughs in supporting and promoting the capital's small businesses.
Word from the Cabinet
Cllr Jack Hopkins, Cabinet Member for Business, Culture and Regeneration, said: "This is a fantastic recognition of the work we've done to support small businesses in Lambeth.
"We made some bold and ambitious decisions to create affordable business space and ensure that Lambeth was a great place to do business – we often took a bit of criticism for that, but we've helped create hundreds and hundreds of new jobs for local people, young and old.
"Lambeth is now seen as one of, if not the best boroughs in London to come and start a business."
Lambeth Works
Lambeth Works is a strategic response to the need for more affordable workspace. It contributes to Lambeth council's drive to create a world-class ecosystem for start-ups and micro-businesses within the borough.
Affordable workspace, co-working spaces and business incubators are highly effective at supporting micro-businesses. Providing the flexibility and support they need – easy-in, easy-out terms; increased networks; access to collaborators and talent.
Sites already up and running include Granby Space in Lower Marsh, the Health Foundary at St Thomas' Hospital, POP Brixton, and Build Studios in Waterloo.  Over the next five years, Lambeth Works will have created at least 140,000 sq. ft. of new affordable workspace.
Small Business Friendly Borough Awards
Now in its fourth year, the Small Business Friendly Borough Awards is run by London Councils, which represents the 32 boroughs and the City of London, and the London region of the Federation of Small Businesses. The awards give councils well-deserved recognition for effective and imaginative schemes that encourage local entrepreneurship.
This year's ceremony was held at the Kingsway Hall Hotel in Holborn and was attended by figures from the public and private sector.
Federation of Small Businesses
Steve Warwick, Chair of the London region of the Federation of Small Businesses, said: "The FSB is proud to support the Small business friendly Borough Awards. At a time when small firms in London are faced with an increase in the cost of doing business it is vitally important that Boroughs look to support their local economies."