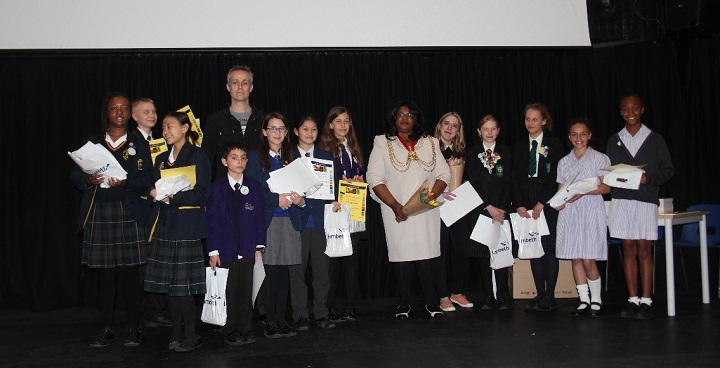 The 10th anniversary of the Lambeth Phoenix Book Awards was celebrated on 4 May with Boy X, a fast-paced action adventure, announced as the winner of the 2017 prize as voted for by young people from the borough.
The Mayor of Lambeth, Councillor Marcia Cameron, presented the awards and congratulated students on their stunning presentations of the books they had read. She also spoke about her passion for reading and how it changed her life.
The ceremony, which took place at The Norwood School, was attended by students from seven secondary schools across Lambeth as well as two out of the four shortlisted authors – Katherine Woodfine and Dan Smith. Both authors spoke about their work and took questions from students.
Author Dan Smith on receiving his award said: "These kinds of awards always mean so much because the readers choose their favourite books, write reviews, and vote for the winner. In the case of the Phoenix Book Award, the students even choose the shortlist. On the day, the students were amazing – different schools championed different books, giving presentations, showing films, and there was even a short piece of drama written especially for the occasion!
"And when it was time to announce the winner, it was so exciting to hear 'Boy X' being called out! The students were fantastic, the organisation was perfect, and it was a huge honour to win. Thank you to everyone who voted for Boy X – the trophy is now proudly displayed on my bookshelf."
You can find out more information and read the book reviews by young people on the Phoenix Book Award's website.
Follow Lambeth Libraries on Twitter.