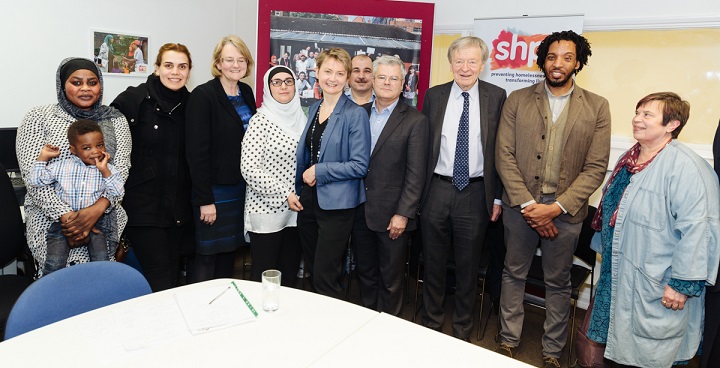 Lord Dubs and Yvette Cooper, who have both campaigned vigorously in Parliament for the UK to help refugees, attended alongside Cllr Lib Peck, Lambeth Council leader, and Cllr Paul McGlone, the council's deputy leader, at the offices of support charity SHP, in Vauxhall.
Lambeth council has welcomed 23 refugee families, many of whom gathered at SHP where the discussion also covered the politics surrounding the refugee's arrival in the UK, and the support they had received since arrival. Lord Dubs told them about his own experience having fled the Nazis and arriving in the UK as a six-year-old boy.
Lambeth leading the way
Lord Dubs said: "These people are victims of a terrible, terrible situation in Syria and they are entitled to have lives, decent lives. It's so important, otherwise we are saying to our fellow humans forget it, you have no rights to anything, which is just unacceptable.
"I have heard about the good work Lambeth has done to support Syrian refugees and I think it's terrific. It has become known around London that Lambeth council welcomes people, that the borough has brought refugees in and given them a chance to develop a decent life with lots of local support from the community.
"I wish other councils up and down the country did anything like as much.
"I loved today's event because you know we talk in theory in Parliament about what we do, and then to meet the refugees, to meet people who have benefitted has been wonderful. Having seen some of the refugees in the camps in Greece and in France it's gratifying to see people being given a real chance to rebuild their lives."
Lambeth has commissioned SHP to provide the casework support to help the new arrivals settle in the borough. SHP work alongside council services and with local health and welfare services to support newly arrived families. A network of volunteers from Citizens UK Lambeth office have also contributed hugely to the settlement effort.
A warm welcome
Yvette Cooper MP said: "Lambeth has been doing some amazing work to support refugee families, and I think playing a leading role in what councils across the country are doing. The council has been providing support, making sure it's linked to other services as well, and providing such a warm welcome to those who have fled conflict or persecution.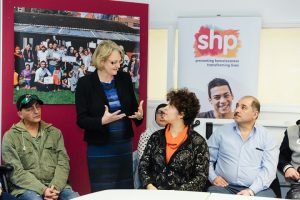 "It has been inspiring today to see everybody coming together, to see refugees and families and all of the support services and the community coming together. I think Lambeth is showing great leadership on this and showing the importance of everyone working together."
In addition to the 23 families already welcomed to Lambeth, the council has this year pledged to welcome another five families. The work of local community groups has been crucial, with Lambeth Citizens for example helping to source properties from  for families to live in.
Word from the Cabinet
Cllr Lib Peck, Lambeth council leader, said: "Lambeth is an open, tolerant and compassionate borough – and the way that people have stepped up to help those in need is absolutely testament to that. The crisis in Syria is of such a scale that as a borough we felt we have to act to help those most in need, despite the challenges and the slowness of the UK government to accept refugees.
"We lobbied the government in 2015 to do more to welcome Syrian refugees and unaccompanied children after their initial reluctance to do so, and I'm proud that Lambeth has led the way in London to help so many of those who have been settled in the UK."
Pleased to call Lambeth home
Among those who attended was Rashna who said she had fled the war in Syria in 2013, and spent four years living in a refugee camp in Jordan.
Rashna said: "I am so pleased to now call Lambeth my home, and I have been given the greatest gift of all since arriving, my son, Saleh. I only hope that my husband will be able to join us here soon, so that we can be reunited and live as a family."