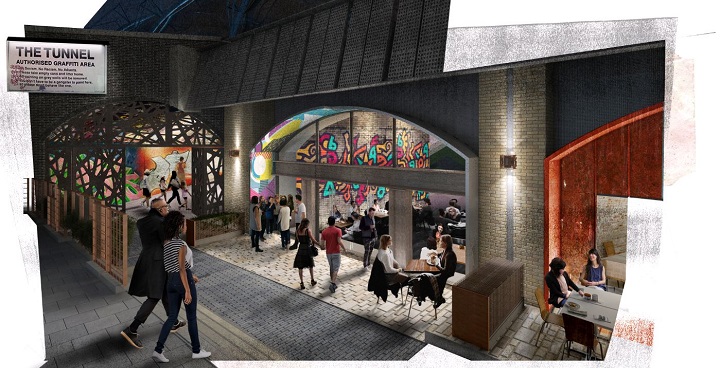 Leake Street Arches took home the Placemaking Award at the first-ever London Infrastructure Awards. The Placemaking Award is to recognise projects that integrate infrastructure with London's wider urban fabric, for example through unlocking new housing and associated development or public realm improvements.
Official opening
The recognition for Leake Street Arches comes just after the official launch on 16 July with four businesses opening as tenants. Adrian Lee, Development Director at scheme developers LCR said: "These awards acknowledge projects that have helped make London the best city in the world to do business. We are thrilled to get such recognition amongst great company".
The future of London
With infrastructure a hot topic in the press right now, the focus of the 2018 London Infrastructure summit was the future, with priorities for London's infrastructure after completion of the Thameslink and Crossrail projects high on the agenda.
---
For more information
London's largest legal graffiti wall, Leake Street made its name as a democratic cultural venue for street art. Eight former railway arches next to the Graffiti Tunnel are coming back to life as restaurants, bars and entertainment spaces. The 23,000 sq ft space beneath Waterloo station complements the wider regeneration in Lambeth. Leake Street Arches offers an exciting new destination to the 24 million people visiting the South Bank each year. See their information pages
Set up to celebrate both infrastructure projects and the individuals making their mark on London's infrastructure network, the London Infrastucture Awards were held at the National Gallery, part of Lambeth's SouthBank complex. The fifth annual London Infrastructure Summit attracted over 500 delegates and experts across business, national and London government and infrastructure providers.