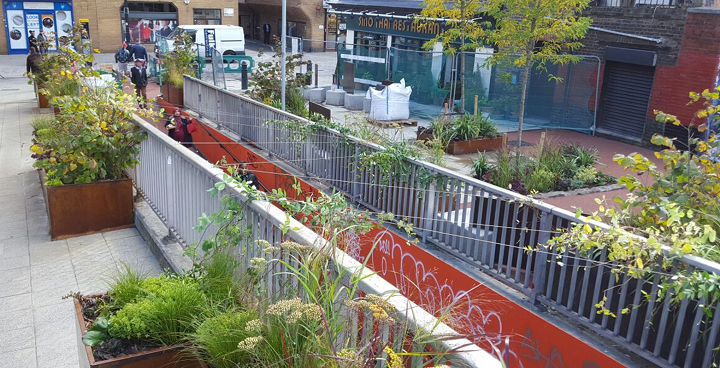 The Leake Street Pocket Park in Waterloo will officially be opened Tuesday 20 October at 2pm.
An urban oasis of shrubs, perennials, grasses, climbers and trees, the park is a result of local input and partnership working between Lambeth Council, We Are Waterloo (Business Improvement District) and Network Rail.
The project was funded through section 106 planning contributions in the area totaling £50,000 with match funding of a further £40,000 from the Greater London Authority.  In kind support was provided by We Are Waterloo throughout the life of the project by assisting with project development and consultation. They will also be maintaining the park as part of a lease agreement with Network Rail.
The park is located at the entrance to one of the most iconic graffiti hotspots in London where the Leake Street tunnel walls are decorated in graffiti and have seen some of London's best ply their trade in this graffiti tolerant space.
The entranceway area was previously used as a dumping ground for rubbish and disused market stalls as well as being a space that encouraged anti-social activity such as drug use and rough sleeping.
A local architect was commissioned to re-design the space, aiming to provide a more inviting area for people to visit whilst also giving visitors and the local community an area of green space along Lower Marsh to enjoy.  It is intended that residents, visitors and workers will be able to use the space to sit, socialise and eat.
The plants have been specially chosen to attract wildlife into the area and it is hoped that insects and birds will start to populate the pocket park. In addition to this, some of the planters have been designed to absorb water run off as sustainable urban drainage systems.
John Ruston, the Chair of We Are Waterloo said, "The new pocket park at the entrance to Leake Street provides a fitting welcome to Lower Marsh that is both a credit to the businesses of the street and to the graffiti artists operating in the tunnel. This space has long been an eyesore and we are grateful to Lambeth Council and Network Rail for helping us make this space available for the benefit of the whole community."