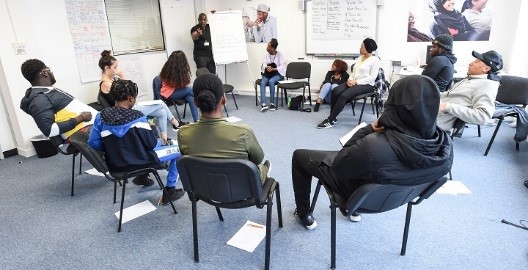 "We work with young people who may be in care, at risk of gang involvement or have been excluded from school. They face high, sustained levels of conflict. Violence, aggression, poor relationships, low self-esteem or bullying may be part of their daily lives.
Working with friendship groups
"We wanted to get away from the 'parachute in, leave a void' approach. The risk of working with individuals was that they became just a single voice talking against conflict. But with friendship groups they're taking the message to the estate. On Tulse Hill Estate and with the St Matthew's Project we meet the TRAS, we have adults and young people on the journey. learning the language to carry the message on.
Whose fault?
"One questions we ask is about ownership: 'if your friend makes you laugh and you get in trouble, whose fault is it?' they always start by blaming their friend then change to 'I chose to laugh'. Then the idea of picking up a knife and going out for revenge changes, too.
Changes
Before joining the L&E programme, 56% of the young people had been excluded from school, 30% had been involved in offending and 57% in violence. Now:
48% have changed their thinking around weapon carrying
86% say they understand conflict and 84% know about tools they can use in conflict situations .
73% are more confident to deal with conflict situations in everyday life
76% say they have a better understanding of what makes healthy relationships .
68% are more aware of how their behaviours affect other people (
Ambassadors
"Young people are looking at intervention work as something to get qualified in now, to be ambassadors. The age of young people at risk of gang involvement has gone down from 16 to 11, 12, so we're looking to work with young people who already volunteer for a better community – from  footballers to dancers.  The success of the project is seeing people's mentality moving from 'it's nothing to do with me' to 'How can I help?' Tulse Hill TRA are working with us to set up a young people's TRA which we think is a first.
For more information
Building strong partnerships is key to the development and effectiveness of this programme to help young people. Please contact Programme Manager Gabin Sinclair-Constance.