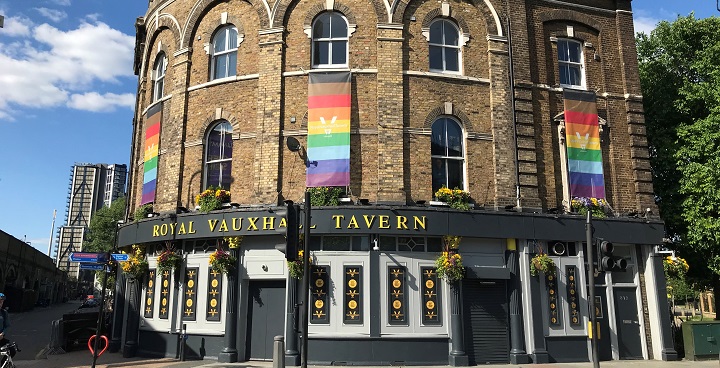 LGBT+ clubs and bars in Lambeth hit hardest by the Covid-19 pandemic have been awarded lifeline grants to help them cover running costs during the coming months. They were forced to close their doors to stop the spread of Covid-19, but are still incurring ongoing costs with no money coming in.
Hard-hit hospitality sector
The Eagle venue in Kennington, the Fire nightclub in Vauxhall and the famous Royal Vauxhall Tavern were awarded a total of £45,000 by London Mayor Sadiq Khan. The latest lifeline follows a series of support measures put in place to help the hard hit hospitality sector.
Lambeth's grant
In June the Royal Vauxhall Tavern was named one of the 'most at risk' Lambeth businesses from the impacts of Covid-19, and was awarded a £20,000 Lambeth Council grant to help ensure its survival. The support was part of the Lambeth Council Local Economy Hardship Fund which provided £4.2m in grant support to more 370 organisations, including independent hospitality businesses such as restaurants, pubs, cafes, clubs and music venues.
Word from the Cabinet
Cllr Sonia Winifred, Lambeth Council's Cabinet Member for Equalities and Culture, said: "These venues play a vital role in the social fabric of our diverse and inclusive borough. The Covid-19 pandemic has hit them hard, but they are a huge asset for Lambeth, and London, so we are determined to help them survive this current crisis.
"I thank the London Mayor for these latest grant which acknowledge the both the challenges our arts and culture sector faces, and our determination that they should survive into the future so they can continue to serve our borough and our city in their own unique and valuable way."
Iconic LGBT+ venue
The Royal Vauxhall Tavern is widely recognised as London's most iconic LGBT+ venue, built in the 1860s and the first place in the UK to be awarded Grade 2 listed building status because of its importance to LGBT+ and Lambeth's history.  It is one of the 11 of the hardest hit LGBT+ venues across seven London boroughs to have received grants from the Mayor's Culture at Risk Business Support Fund of between £5,000 and £23,000 to help in the short-term with rent, staffing and supplier costs. City Hall said further funding is set to be given out to venues in the coming months.
More information