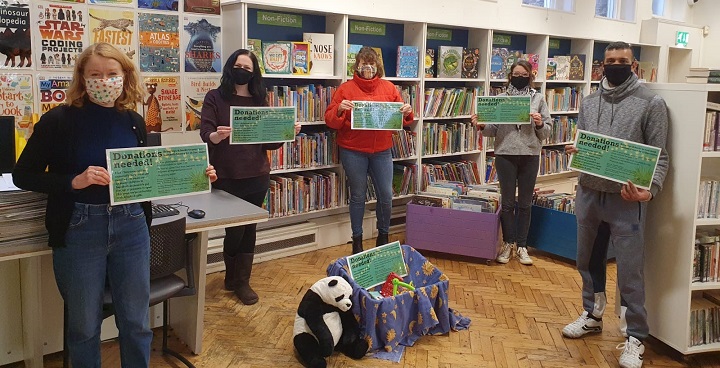 For 11 days, Lambeth Libraries are open for donations of toys and books for children who otherwise aren't likely to get any presents on Christmas day.  COVID-19 is still having a significant impact on families, with many finding it tough to afford presents.
Your donations
There'll be a clearly marked crate at every library during opening hours, from 8 to 19 December. We welcome both new toys and books, and preloved ones if they're good quality, working with nothing damaged or missing, and clean.  We're building in quarantine time – 24hrs for paper and 72hrs for plastic – for all your donations. On Saturday, volunteers will come into the libraries to start to check, sort, clean, and wrap gifts ready for Lambeth social workers to deliver via Lambeth vans and/or volunteer drivers. Some families will get their presents next week, but with the closing date for collections Saturday 19, some will be delivered just in time for Christmas.
Distribution
We've let Lambeth businesses know (via Business Improvement Districts) that we welcome donations of gift wrap. Every present will have a tag attached to say what's in the parcel. Our social workers will pick out age-appropriate gifts for the young people they work with, and parents can cut off the tag before Christmas – a bit like tear-off price tags.
Referrals
If people bring in other things like clothes for older kids, or even food, we will pass them on to charities. We're also leaving it open for local people (such as MPs' casework teams and stakeholders like foodbanks) to get in touch to make referrals to families they want to see included in the present-giving.
More information
Lambeth toyshop Wigwam offers 10% off toys for this collection. Whether you buy online or in store they will store your toy ready to be distributed.
Find your local Lambeth Libraries address and opening times on Lambeth Council's web pages, tel 020 7926 0750 or email libraries@lambeth.gov.uk.