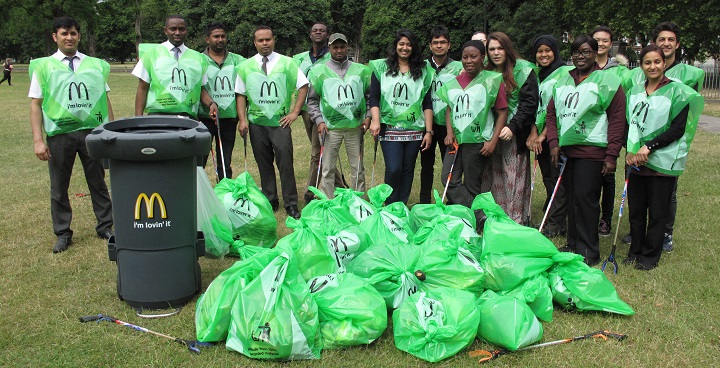 The aim of the campaign is to improve the cleanliness of the local area and encourage the local business community to think about the local environment.
Over 20 volunteers from the local business community participated in the event, which involved litter picking along the high street and in Clapham Common.
Over 20 bags of litter were collected and disposed of, ensuring that Clapham Common is litter free and can be enjoyed by the local community.
Participating businesses included McDonalds, Tesco, Sainsbury's, Infernos, This is Clapham BID, the Clapham Methodist Church and Councillor Adedamola Aminu from Lambeth Council.
Olu Awosanya, franchisee consultant at Clapham High Street McDonalds who organised the event said "the quality of the area where we have businesses is very important and we seek to maintain high standards of cleanliness. This event is in addition to our daily cleaning regime outside the restaurant."
Jeremy Keates, This is Clapham BID Manager said "the high level of participation shows that the local business community and This is Clapham BID is committed to improving cleanliness along the high street. In addition the BID has cleaned and removed gum from over 3,000 sqm of the public highway and we have recycled 2.5 tonnes of waste on behalf of local businesses."
Find out more
Visit: This is Clapham BID website
Write to: This is Clapham BID, 161 Clapham Manor Street, SW4 6DB
Telephone: 020 7622 5905
Email: info@claphambusiness.com
---
Making a difference in your neighbourhood
There are many more businesses and individuals across Lambeth who Do The Right Thing.
If you would like to make a difference in your area we have a range of schemes to help you.